With rapid development of 5G technology, IoT industry has been given more meanings and connotation. At the same time, more digital application scenarios have been spawned. The new generation of 5G wireless communication module, as the key to realize massive connectivity in the IoT field, is also contributing to the digital transformation for thousands of industries.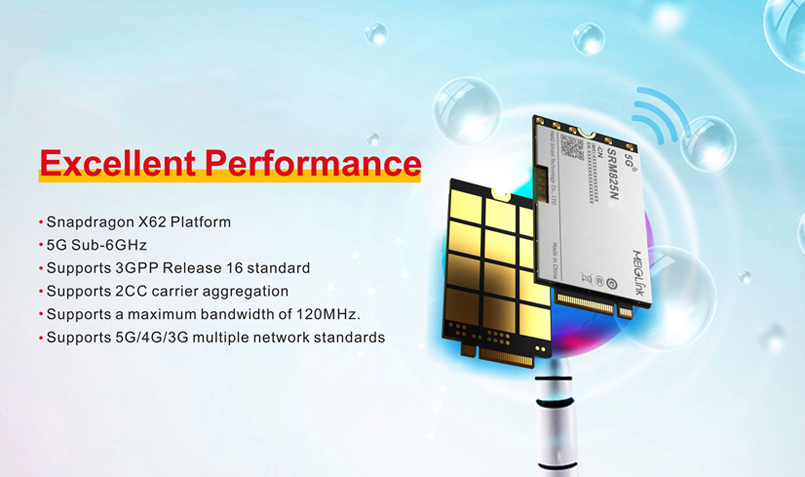 Recently, SRM825N, a new generation of 5G modules from MeiG Smart that meets the 3GPP Release 16 standard, took the lead in passing the three certifications of Chinese CCC (China Compulsory Certification), SRRC (State Radio Regulation Committee) and CTA (China Type Approval), which indicates the SRM825N series modules can meet the requirements of relevant laws and regulations in terms of RF performance, data performance, etc. At present, SRM825N is in mass production in China, more 5G terminals meeting 3GPP Release 16 standard will be accelerated to be applied in domestic market.
SRM825N series are 5G Sub-6GHz modules designed specifically for IoT and eMBB applications. They integrate Qualcomm's latest generation Snapdragon X62 baseband chip, and can support 5G NR downlink CA, Sub-6GHz TDD/FDD 2CC carrier aggregation, and can support the maximum 120MHz bandwidth, effectively improving 5G transmission rate and network coverage. Meanwhile, the SRM825N module also supports 3GPP Release 16 enhancement features, supports 5G network slicing with authentication and authorization, URLLC enhancement, high-speed rail mode, UE energy conservation, 5G TSN and other R16 new technologies, and enables the large-scale implementation of 5G terminals and applications in the field of FWA access, smart factories, smart mines, smart medicine, AI computing and other scenarios.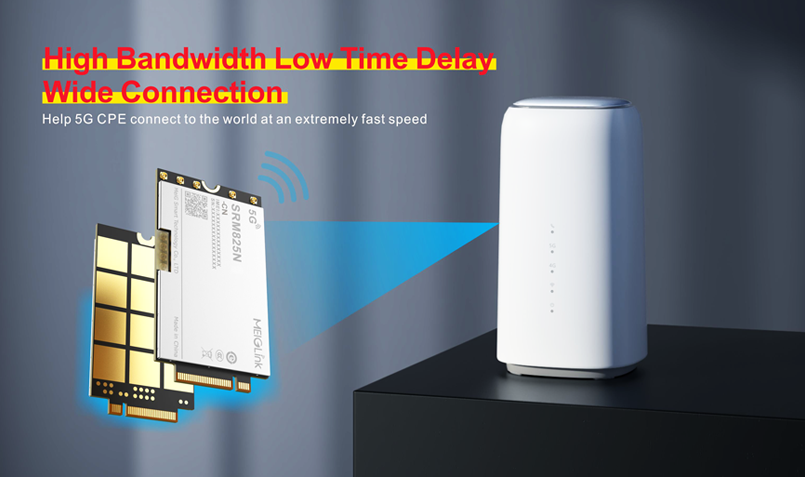 SRM825N series adopt M.2 packaging, conform to the M.2 interface standard, and are designed with a standard size of 30x52x2.3mm. They have USB 3.1, PCIe 3.0, GPIO and other interfaces, and are compatible with eSIM design, enabling rich IoT applications. It is also compatible with a variety of operating systems (Android, Linux, Windows7/8/10 and others), and has the advantages of standard interface, simple backplane design and easier assembly.
In terms of data transmission speed, the maximum downlink speed of the SRM825N series 5G NR can reach to 2.4Gbps, and the maximum uplink speed can reach to 900 Mbps. It is the best choice for many industrial terminal devices requiring large bandwidth, fast data transmission and high network flexibility. When it comes to GNSS positioning, SRM825N series support GPS, GLONASS, Galileo, BeiDou and QZSS global satellite navigation systems, providing faster and more accurate positioning service and adopt independent GNSS antenna design, which can greatly reduce the difficulty of GNSS antenna design for terminal users.
In addition to SRM825N-CN sub module launched for domestic regions, MeiG Smart has also launched SRM825N-EA in Europe, Asia Pacific, Japan, South Korea and the Middle East market. At present, it is launching CE and other overseas certification to enable more overseas 5G products to be mass produced.
As a global leading supplier of cellular modules and solutions, MeiG Smart has successively launched a number of 5G communication modules, realizing the prosperity of products in multi scenarios, multi industries and multi fields. 5G communication module and MeiG Smart are integrated with each other and promote a deep development of economic and social digitalization and help thousands of industries to narrow the digital gaps.