As a global leading supplier of cellular modules and solutions, MeiG Smart has officially launched SGM308 with GNSS single frequency positioning. SGM308 is a new module with high performance, low power consumption and compact size, applied advanced AGNSS technology EASY and can support Beidou3 B1C. Now this module can be widely used in scenarios which has strict requirements for positioning, such as asset tracking, sharing economy, man and pet positioning, industrial and consumer fields, etc. to enhance refined management of the industry, help digital transformation and upgrading and provide power for IoT.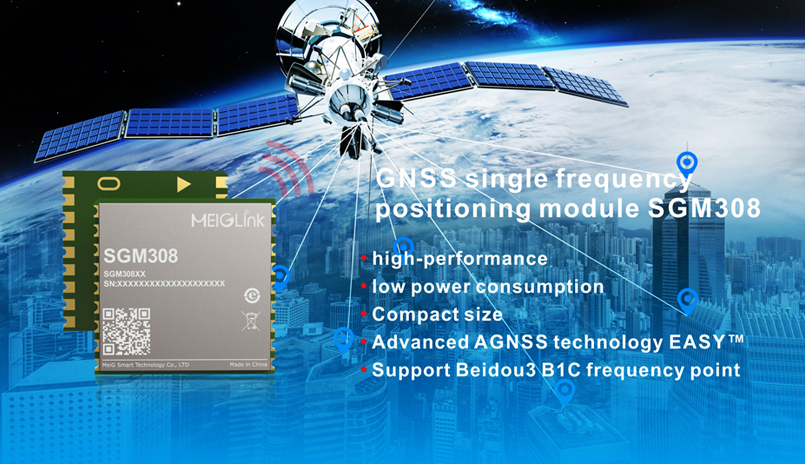 SGM308 is a single frequency positioning module which supports GPS, BeiDou, GLONASS, Galileo, QZSS (an extended system of GPS, Satellite No. 33,34,35,36). In practical application stage, SGM308 is able to find 2-3 more available GPS satellite signals than other products; At the same time, it supports a joint positioning configuration mode of multi system of GPS+BeiDou, GPS+GLONASS and GPS+Galileo, and also supports multi satellites search. Compared with single GPS system, multiple GNSS system can search more visible satellites, spend less time on the first positioning and get a more accurate positioning.
By applying the built-in Flash chipset, SGM308 is easy to upgrade firmware program and acquire best performance. Besides, Flash can save the data of satellite ephemeris and the chipset can position quickly after power failure and restart within 4 hours and can also position within 10 seconds in normal satellite signal coverage.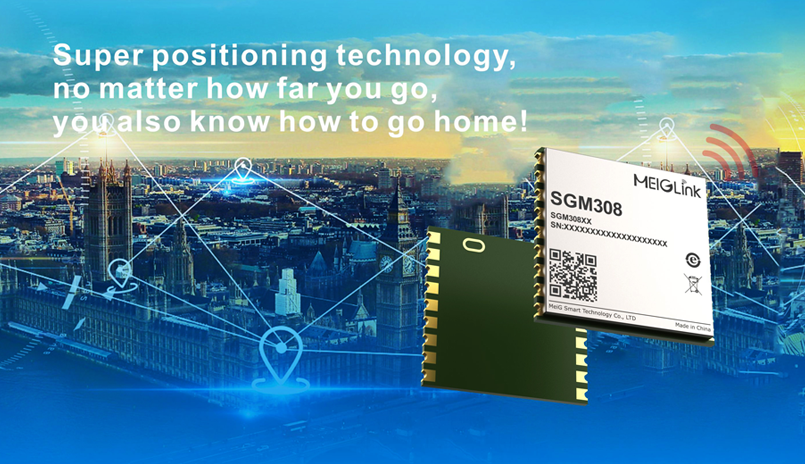 SGM308 can use ephemeris data stored in internal RAM to automatically calculate and predict tracking data of up to 3 days by applying advanced EASY ™ (Embedded auxiliary system) technology. Therefore, it can quickly obtain positioning data even under poor signal. By utilizing GLP, SGM308 is able to automatically adjust the switching time according to the environment and conditions to achieve the balance between positioning accuracy and power consumption.
In addition, the first positioning cold start time is less than 25s, the hot start time is less than 2s, the positioning accuracy can be within 2m. Its sensitivity in tracking mode is -166dBM, recapture – 158dBM, and cold start -147dBM.

Secondly, SGM308 integrates LNA (Low Noise Amplifier) and SAW filter (Surface Acoustic Wave Filter) internally to deal with signal capture in complex environments and ensure equipment sensitivity, so that users can have a good experience of positioning and navigation services: SAW filter plays a good role in suppressing various signal interferences of equipment; LNA can greatly improve the sensitivity performance of the base station receiver.
In terms of packaging design, MeiG Smart SGM308 adopts "small and smart" LCC packaging, with the size of 10.1X9.7X2.4mm, which is compatible with the mainstream packaging design in the market. On the one hand, customers can easily embed it into various application scenarios or design and develop of complete product, on the other hand, it is particularly suitable for scenarios with refined positioning requirements such as logistics tracking, asset management, personnel and pet positioning, industry, etc.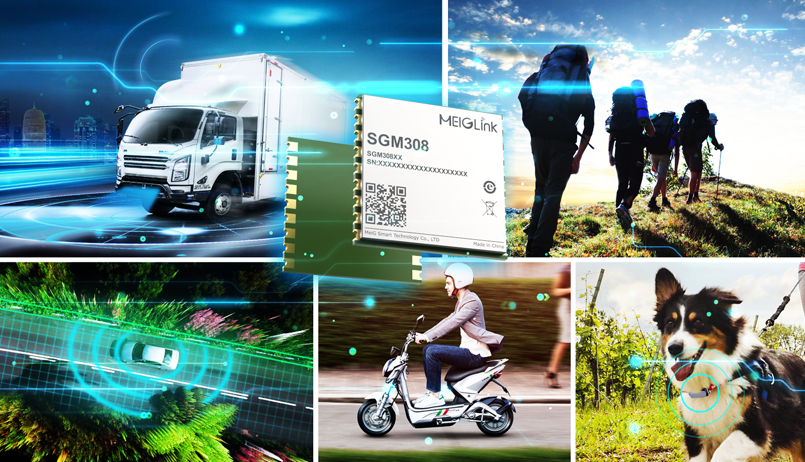 The launch of GNSS module—SGM308 is a new start for the position of MeiG. In the future, MeiG Smart will continue to invest more on its R&D department and dedicate to GNSS field to provide more high-precision programs by virtue if its own advantages. MeiG will also create value for the society and empower thousands of industries by leading the industry's module products and covering the whole chain of R&D.