On May 25th, MeiG Smart Online 5G New Product Launch was held in Shanghai office. This launch attracted more than 1800 guests from IoT industry, including our partners, chipset manufacturers, operators, shareholders, media and relevant scientific research institutions to watch this global live broadcast online.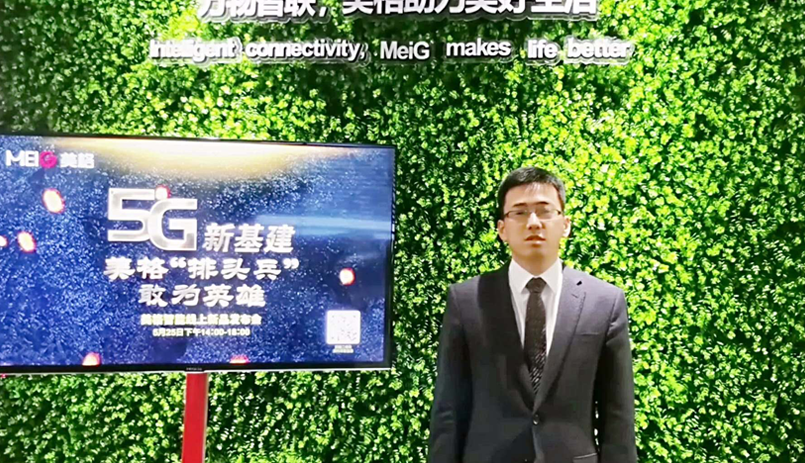 MeiG Smart CEO Benjamin Du
Benjamin Du, CEO of MeiG Smart, delivered an opening speech on "Strive for 5G Era, Win a Smart Future." According to Mr. Du, since the foundation of MeiG in 2007, the company always insists on taking wireless communication technology, especially cellular network technology, as its core competitiveness and provides wireless communication modules and solutions for customers. To continuously improve the time-to-market of customer products is the top priority of MeiG's product line, and to progressively improve the quality of service is the highest KPI indicator of MeiG's sales team. What's more, as an R&D-driven enterprise, MeiG is motivated by constant iteration of technology, continuous innovation of products and extension of one-stop customer service boundaries. Therefore, insisting that the R&D investment should not be less than 15% of the operating income is the CPI of the company's shareholders, board of directors and management, especially in 2019, 2020 and 2021. With the commercialization of 5G technology, the R&D investment of MeiG Smart has exceeded 20% of the operating income. MeiG Smart will focus more on the R&D and application of wireless communication modules and solutions, and will maximize the application scenarios and user experience, thus realizing technology export and benefiting users worldwide. For 5G business, MieG Smart firmly believes that it is a future trillion-dollar market. In order to further consolidate the capability of basic research and development platforms and build an ecological construction framework for 5G customers, and to make 5G ubiquitous and ever-present as "electricity", MeiG has added another 10 million dollars this year in addition to the 50 million yuan investment in the first phase of 5G business last year,. The research and development investment will be increased for domestic 5G chip platform, ODU&Wifi6 full scene coverage, millimeter wave laboratory, 5G V2X, 5G industrial Internet and other fields respectively. We aim to construct the basic capability of 5G and empower thousands of industries.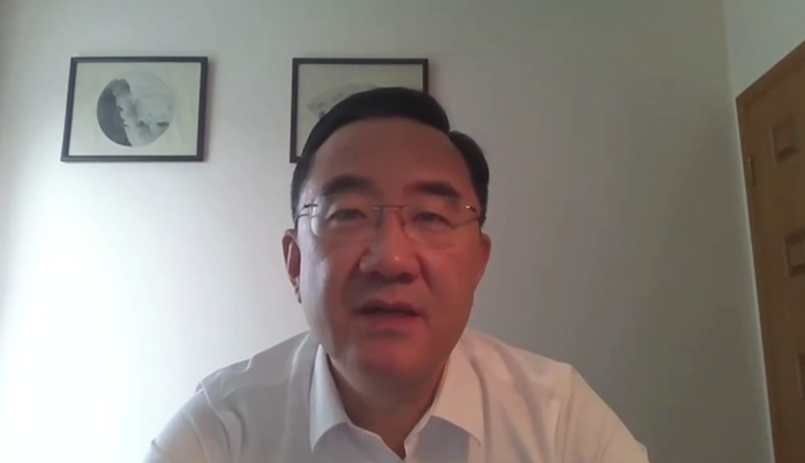 Qualcomm Global Vice President Sun Gang
As a strategic partner of MeiG, Qualcomm Global Vice President, Mr. Sun Gang, said: "We have long-term close cooperation with MeiG in the fields of Internet of Things, Internet of Vehicles, mobile broadband, etc. 2019 is the first commercial year of 5G, while 2020 is the year of 5G expansion for more terminal types and wider industry development. The commercial application of 5G technology will bring great opportunities to the whole industry. 5G will not only change the way everything is connected, but also transform the future of the network and the Internet, bringing new growth opportunities and enabling innovation revolution to the global economy in the coming decades. To achieve all these visions, we cannot do without the full cooperation of the whole industrial chain. 'One tree does not make a forest.' The construction of 5G ecology requires close cooperation between upstream and downstream partners in the industrial chain and leaders in various fields. We look forward to continuing to work with MeiG Smart to provide leading IoT platforms and communication products for channel partners and industry customers in 2020.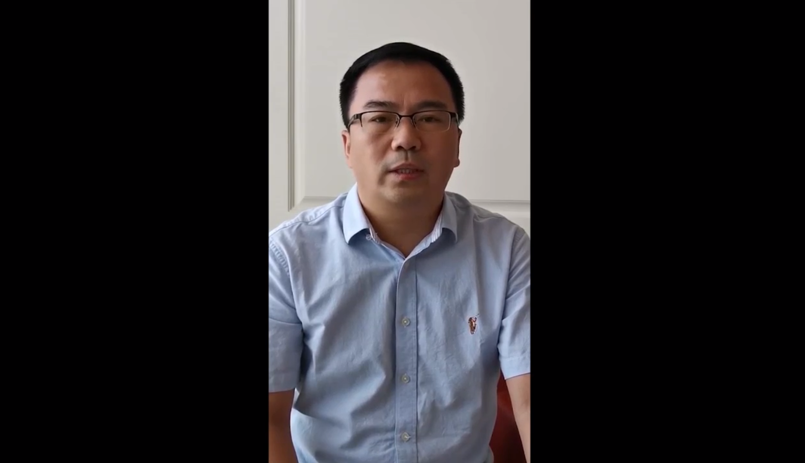 Hisilicon/IoT Product/General Manager Liu Qianpeng
Mr. Liu, General Manager of Hisilicon IoT products, expressed his heartfelt congratulations to this launch. As the strategic partner of China's "core" first Hisilicon 4G module, he hoped that Hisilicon and MeiG would continue to deepen their strategic partnership to facilitate new 5G infrastructure and achieve win-win results with technological innovation and systematical solutions.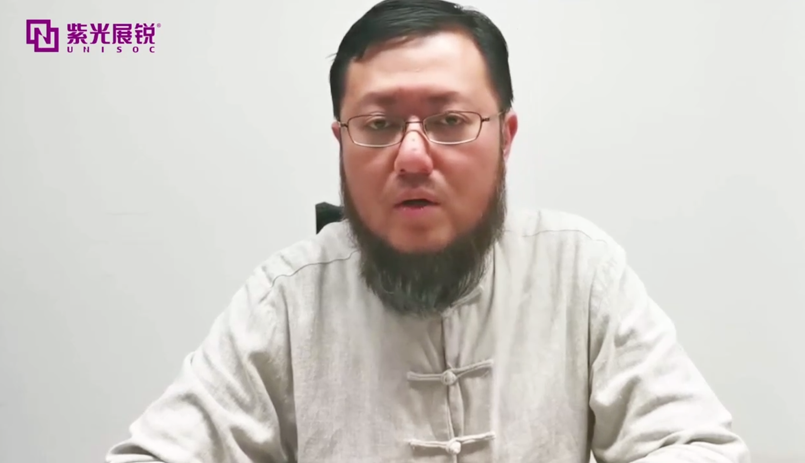 UNISOC/Industrial IoT/Vice President Xian Miao
Video congratulations from Mr. Xian Miao, Vice President of UNISOC Industrial IoT: The upgrading of the industry cannot be separated from the mutual support and cooperation of partners, " A nine-storey tower begins with a pile of earth." Based on the cooperation with MeiG Smart to launch the new LTE Cat.1 series module-—SLM320, we expect the new progress brought by 5G with MeiG, and we will continue to focus on the digital changes in all industries to help 5G create new value!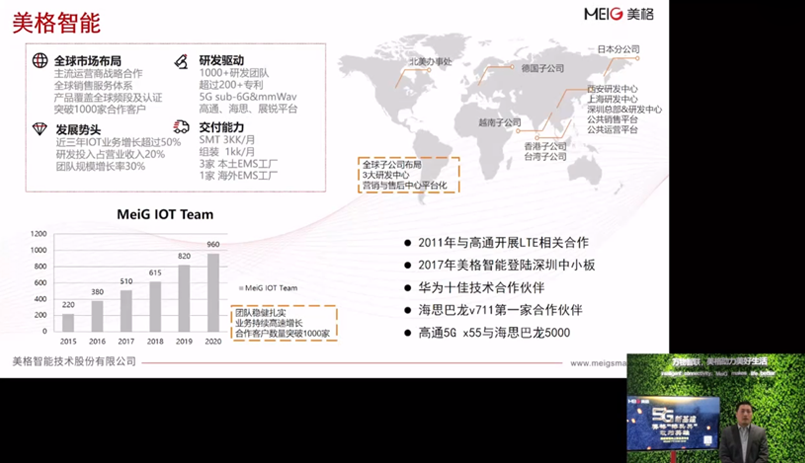 MeiG Smart SVP Fan Dian
Next, Mr. Fan Dian, Senior Vice President of MeiG Smart, gave a wonderful speech on "New Infrastructure, New Opportunities, New MeiG". With 50% annual compound growth rate of business scale and 30% annual growth rate of team, IoT business of MeiG is developing rapidly in recent years. In the speech, Mr.Fan introduced the company's development history, module business, ODM solutions, customer service, R&D strength, R&D resources, delivery capacity, global product certification and global business layout. Mr.Fan stated that MeiG abides by the business philosophy of maximizing customer values and will continue to provide customers with the best service.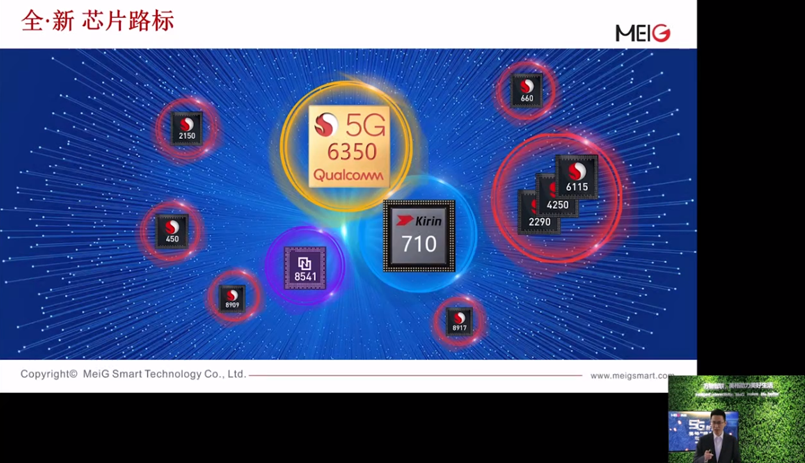 MeiG Smart Deputy General Manager Jin Haibin
As a pioneer in smart modules in the industry, Mr. Jin Haibin, deputy general manager of MeiG Smart, delivered a wonderful speech on "Brand new intelligence, Leadership in the industry". He innovatively proposed a new design method and service mode to lower the customer access threshold of Qualcomm's product line and truly achieve quick start, quick results and quick delivery. On product planning and design, MeiG has introduced the first 5G SOC smart module product, the first "Kirin Core" cost-effective solution, and AI 4G standardized series module group embedded with high, middle and low computing power to enable customers to achieve "One design, 10 years of benefits" and greatly reduce their R&D investment.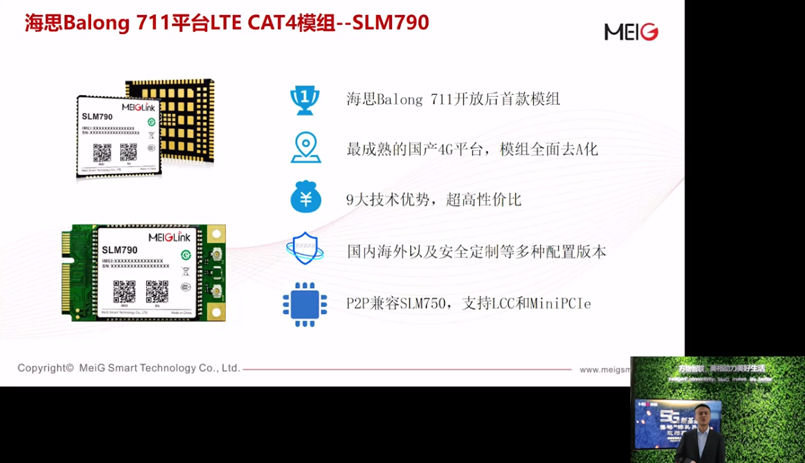 MeiG Smart Deputy General Manager Zhang Qiuyue
Mr. Zhang Qiuyue, vice general manager of MeiG Smart, with the theme of "China's core module empowers new IoT", introduced MeiG's advanced products in detail. SLM790 module is the first standardized module after the opening of Hisilicon Balong 711 platform. From a technical point of view, he introduces the technical points such as co-frequency neighbor interference, downlink fading, high-speed railway special algorithm optimization, wide temperature coverage, telecom VoLTE design, audio Codec cost reduction scheme. MeiG is the first to pass CCC, CTA and China telecom operator warehousing authentication. We have been commercialized in the fields of intelligent car machine, OBD, on-board DVR, intelligent driving monitor, industrial router, industrial DTU, POC, industrial robot, MPOS, advertising screen, home gateway, sharing scooter, sharing bicycle, sharing massage chair, sharing charging treasure, etc.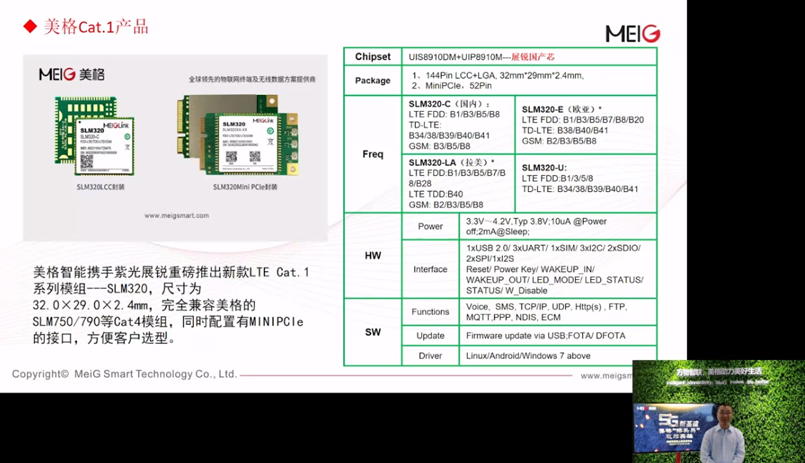 MeiG Smart Product Director Guo Qianghua
For the popular Cat.1 market, Mr. Guo, product director of MeiG, gave a speech on: what is Cat.1? In view of the huge market, Blue Ocean Opportunity of Cat.1 has won unanimous praise and become the most discussed topic. Mr. Guo listed the advantages of Cat.1: 1. Firstly, the cost advantage of Cat.1 is 30%-40% lower than the existing Cat.4 products; 2. Cat.1 can seamlessly access the existing LTE network without upgrading software and hardware for the base station; 3. Compared with NB-IoT, the low latency of Cat.1 also reflects its superiority; 4. With a downlink of 10Mbps and uplink of 5Mbps, Cat.1 can meet 90% of IoT application scenarios; 5. Compared with Cat.4 module, the power consumption is reduced by nearly 20%. On the premise of introducing a series of standardized and miniaturized modules, MeiG Smart has also introduced solutions in various fields with its own DNA, for example, package service, in order to accelerate the production speed and help our customers to earn more money more quickly.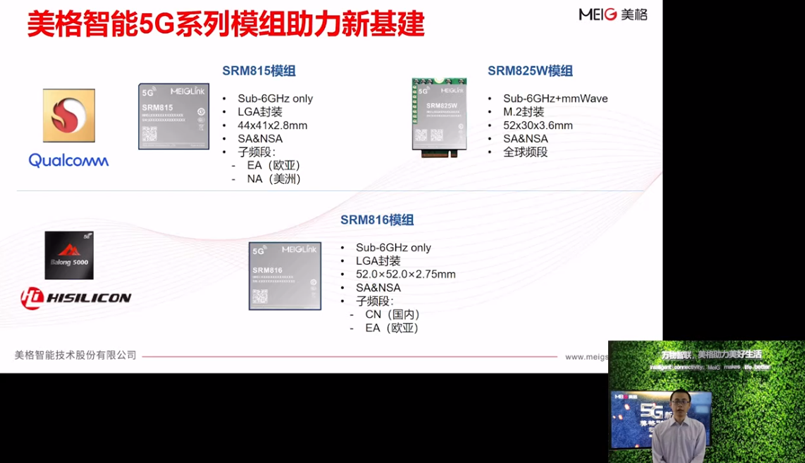 MeiG Smart 5G Product Director Liu Weipeng
As the grand finale of this new product launch, Mr. Liu Weipeng, director of 5G products, finally gave us a blockbuster speech on 5G products and solutions. He introduced 5G series modules SRM815/ SRM816/ SRM825W based on Qualcomm SDX55 platform and Hisilicon Balong 5000 platform. In order to speed up the landing time of customer products, MeiG Smart released SLM171 Wi-Fi 6 module along with 5G indoor CPE, 5G MiFi, 5G outdoor CPE, 5G Car-Box and other related customized solutions. It was the first time for MeiG to propose the product strategy of "Deploy 5G in 90 days with MeiG Smart", demonstrating our confidence in 5G product solutions and determination to provide one-stop service. In line with the customer-oriented philosophy, Mr.Liu also introduced our smart antenna design team, which can provide services to customers from various aspects such as conceptual simulation, feasibility assessment, OTA debugging, pre-certified test, SAR test, production line coupling.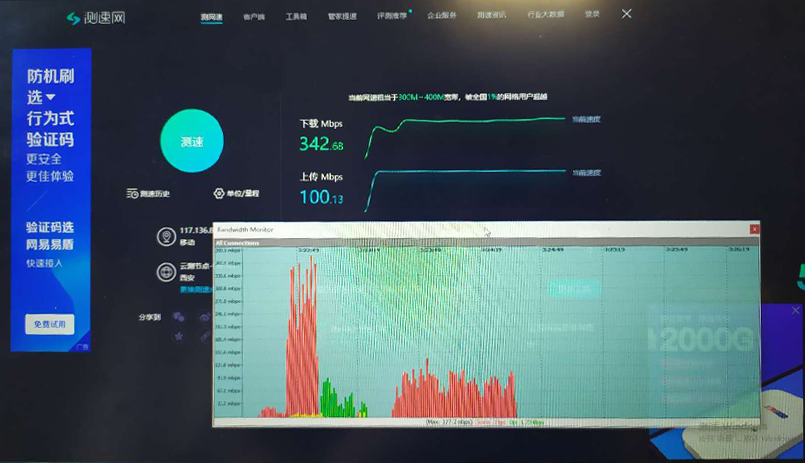 This live broadcast used the self-developed CPE solution by MeiG and the actual test uplink speed reached 100.13Mbps.
This year is the first year of 5G commercialization. MeiG will continue to work with upstream chipset manufacturers such as Qualcomm, Hisilicon and UNISOC to help more customers and partners to bring their products to market, to serve global customers with our best service, to assist in new infrastructure and to accelerate the realization of a smart world where everything is interconnected.
Those who missed the new product launch of MeiG are welcomed watch the record. Please click the link and watch the video. Thank you!