Wi-Fi, a ubiquitous technology in today's world, providing wireless connection to billions of devices, has become a preferred choice for indoor internet access. In order to adapt to new business applications and narrow the gap with wired network bandwidth, each generation of 802.11 has introduced new technologies to provide higher transmission rate and lower latency.
Since the first generation of 802.11b Wi-Fi technology, Wi-Fi has undergone changes of 802.11g, 802.11a/g, 802.11n, 802.11ac, and 802.11ax is the latest generation of wireless local area network technology, which will replace 802.11ac as the latest Wi-Fi standard.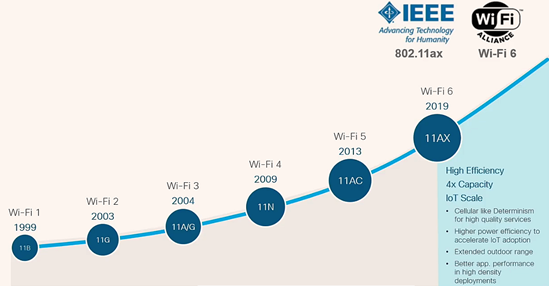 In the past, Wi-Fi naming was quite complicated, and it was difficult for consumers to tell the difference. To solve this problem, Wi-Fi Alliance introduced a simplified Wi-Fi name, renaming the next generation of Wi-Fi technology 802.11ax as Wi-Fi 6, and renaming the first two generations of technology 802.11n and 802.11ac as Wi-Fi 4 and Wi-Fi 5 respectively. The simplified Wi-Fi name is simple and uniform, with high user identification. The larger the number behind, the faster the speed and the stronger the performance.
As 5G products require terminal upgrade and SIM card insertion, there are limitations such as high cost and weak terminal compatibility. However, Wi-Fi 6 has overcome the challenges of large bandwidth, large capacity and low latency in indoor coverage, and can support key applications such as VR, 4K/8K HD. Therefore, for specific scenarios, Wi-Fi 6 and 5G network can cooperate with each other to achieve the best cost performance of the entire access system. In the enhanced mobile broadband (eMBB) scenario, 5G CPE/MiFi products can be connected to 5G network to realize Internet connection, and 5G can be converted into Wi-Fi 6 signals to provide Internet connection services for more indoor devices without upgrading all devices to 5G. Meanwhile, since Wi-Fi 6 is of downward compatibility, devices with Wi-Fi 5 and below can also be connected to network communication through 5G network. What's more, for outdoor high-density places with high flow rate (such as squares, gymnasiums and Hajj Day in Mecca), the capacity of 5G network may not meet the demand of users' access without adding 5G base stations, thus combining Wi-Fi 6 can be a cost-effective way to solve the problem.
In order to promote the rapid development of 5G industry and meet the needs of different industries for Wi-Fi 6 products, MeiG Smart has released SLM171 Wi-Fi 6 module, which adopts Qualcomm's latest generation QCA6391 Wi-Fi chipset and can support the latest Wi-Fi 6 standard, with downward compatibility of Wi-Fi 5 and Wi-Fi 4 standards and the size of 21.5 x 19.5 x 2.1 mm. QCA6391 chip adopts more advanced Dual MAC structure, which can support simultaneous operation of 2.4GHz and 5GHz frequency bands and simultaneous access of up to 32 users with a maximum rate of 1800 Mbps (2x280 MHz 11AX+2x40 MHz 11AXDBS). In addition, it can support uplink and downlink MU-MIMO, OFDMA, TWT (target wake-up time), BSS Coloring and other new technologies. While increasing the uplink and downlink rates, it can effectively improve the efficiency of multi-user access and reduce the time delay. Besides, it can effectively save the power consumption of Wi-Fi products with batteries and improve user experience.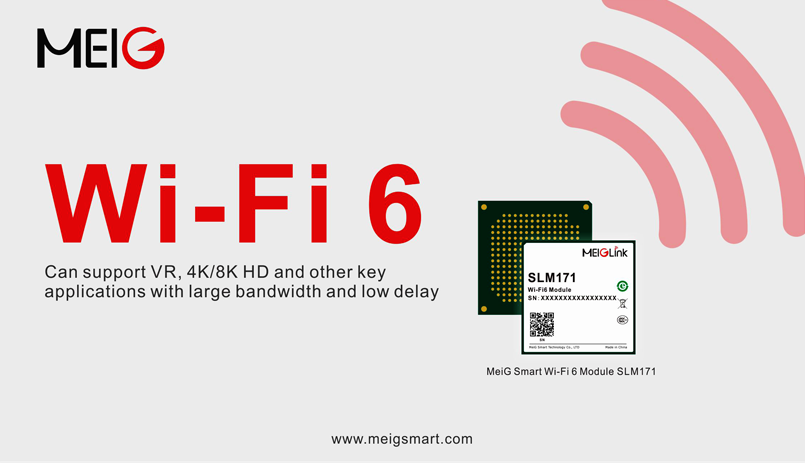 MeiG SLM171 module can be used in conjunction with 5G module SRM815 to quickly build 5G terminals like MiFi, CPE, providing convenient 5G access for various customers. It has high cost performance and can help customers reduce research and development costs.
Through joint efforts with several CPE partners, 5G SRM815 module has successfully completed software and hardware adaptation with hard AP platforms such as Qualcomm IPQ807X/IPQ60XX, MediaTek MT7621 and Broadcom BCM6755, which can support PCIe 3.0 or USB3.0 and realize high-speed data transmission from 5G to Wi-Fi 6.
In the future, MeiG Smart hopes to help our customers to quickly launch a rich variety of 5G products and jointly open up a bright future of 5G with the help of 5G modules, Wi-Fi 6 modules, 5G+Wi-Fi 6 solutions and so on.