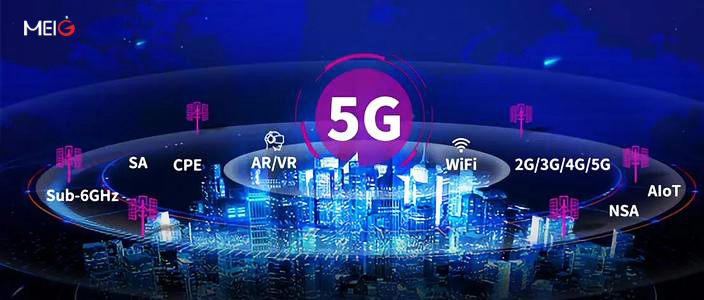 On July 4, 2020, 3GPP announced the official completion of the second edition of 5G standard and R16 standard. As a new milestone of 5G standard, R16 focuses on URLLC, network slice, mm wave communication and other functions.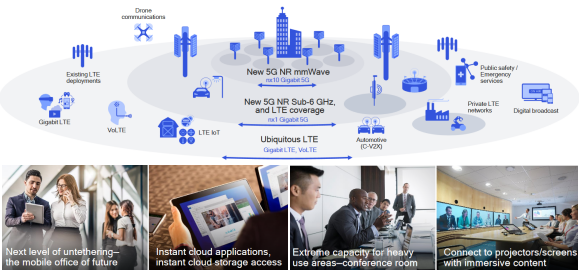 The new standard has converged millimeter and medium wave and added the IAB technology. IAB is considered as the key technology in realizing mm wave. It can increase the flexibility of NR cell, which is equivalent to the integration of millimeter wave and microwave technology, and can realize access and backhaul in the same antenna without adding additional backhaul links to provide support for further practical application of mm wave. Millimeter wave has gradually become an important development direction of 5G. At present, FCC has completed the auction of 28GHz frequency band in 5G spectrum, and the US has become the first country to develop 5G mm wave.
As the penetration rate of 5G users increases, the demand of high and low frequency hybrid networking in China will be further enhanced, and the construction of 5G millimeter wave network will also be accelerated. At present, more than 120 global operators have invested in mm wave and introduced it into 5G application. With the development of high-capacity, high-speed and low-delay services, 5G millimeter wave can meet the higher demands of users on the network.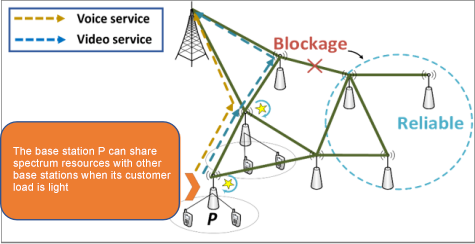 IAB
In addition, millimeter wave has rich resources and higher wireless transmission rate. Theoretically, the average download rate can reach 4 times of the Sub-6GHz, and the peak rate can exceed 7Gbps. Millimeter wave will bring stronger communication capability and application space for 5G systems.
Meanwhile, the low-latency of mm wave can support a series of new services, such as cloud games or cloud computing, and meet the demanding requirements of industrial IoT applications, with low-latency communication between massive sensors and instruments.
With 5G millimeter wave technology, people can better set up public networks and enterprise private networks in corporate environments such as offices and conference rooms, large venues such as concert halls and gymnasiums, and transportation hubs such as airports and railway stations. Millimeter wave can give full play to its advantages of large capacity in crowded areas.
As one of the earliest enterprises to develop 5G mm wave solutions, MeiG has an R&D team of 1000 members and a hardware team of 200 employees, including 20 antenna technical experts and five thermal simulation experts. MeiG has strong technical advantages in 5G antenna and thermal simulation design. By adopting polarization design in the 5G mm wave whole device, the antenna size is reduced by 28%, the coverage is increased by 15%, and the antenna efficiency is more than 50%. The 12 antennas design of the whole device can meet the OTA requirements of Sub6G, mm wave and Wi-Fi 6.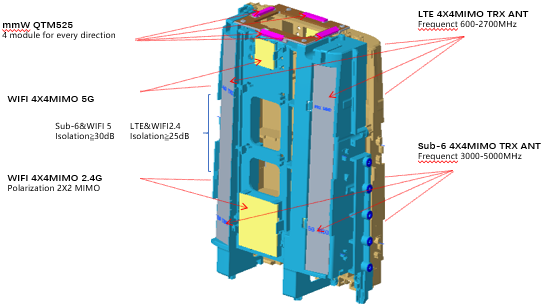 5G mm wave whole device design
We have accumulated a great deal of design and R&D experience in Sub6G and mm wave thermal design and simulation. By modeling and simulation in the early stage of the whole device design, the outer temperature of mm wave products is guaranteed to be under 60 degrees in the high-speed transmission. We are committed to providing customers with high-quality services and products and make customers' product network connection simpler and faster.

Thermal simulation of millimeter wave machine
MeiG Smart SRT851 series 5G router solution is designed on Qualcomm X55+IPQ8072A platform. It supports Wi-Fi 6 and guarantees customers to quickly deploy mm wave router solutions.
In the future, MeiG will provide more customers and partners with a complete set of 5G millimeter wave design solutions, which will speed up the launching time for customers' 5G mm wave products and make them more competitive in the market.