On September 17, the "5G Empowers Everything: The Launching Ceremony of China Unicom & Qualcomm IoT Joint Innovation Center and New Retail Industry Seminar" jointly sponsored by Qualcomm Technologies (Qualcomm) and China Unicom Internet of Things Co., Ltd. (China Unicom) was successfully held in Nanjing. As a long-term strategic partner of Qualcomm and China Unicom, MeiG Smart was invited to participate in the seminar. During the seminar, products such as 5G modules, 5G CPE, smart modules, smart POS, and logistics handheld terminals were highlighted. Mr. Du Guobin, CEO of MeiG, was invited to take the stage to witness the launching ceremony of the Joint Innovation Center.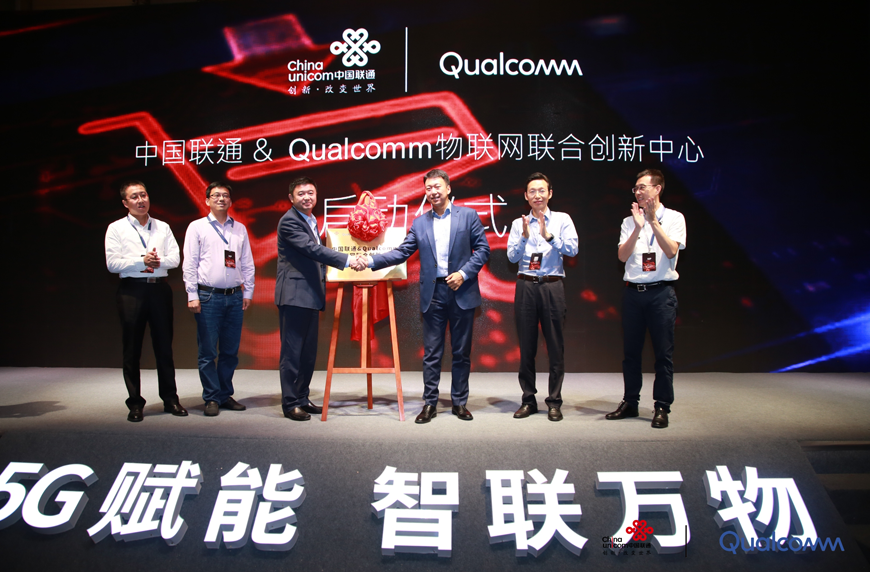 Du Guobin (second from left), CEO of MeiG, was invited to attend the
With the joint witness of more than 300 industry participants, the unveiling ceremony of the Joint Innovation Center of China Unicom and Qualcomm Internet of Things was officially launched. Chen Xiaotian, general manager of Unicom Internet of Things Co., Ltd., and Hou Yang, senior vice president of Qualcomm, were the representatives. Meanwhile, Mr. Du Guobin, CEO of MeiG, attended the ceremony as a witness guest. As an important part of the strategic cooperation between China Unicom and Qualcomm in the field of Internet of Things, the Joint Innovation Center aims to deepen the cooperation between the two parties in IoT related equipment and technology, and together explore new IoT products and IoT application scenarios, to provide carriers for integration and innovation, as well as display platforms for a wide range of fields such as 4G/5G technology, new retail applications, smart energy and intelligent manufacturing.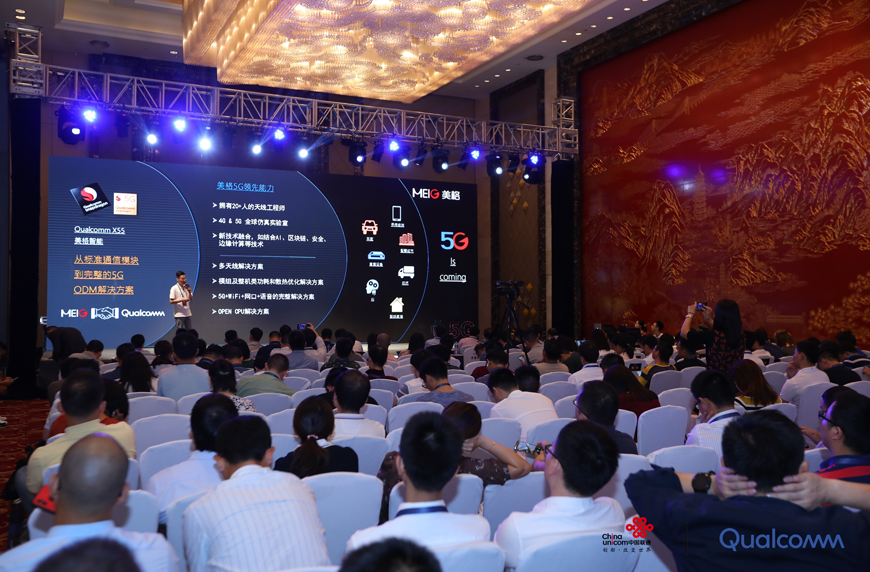 Jin Haibin, deputy general manager of MeiG, delivered a speech
At the seminar, Jin Haibin, deputy general manager of MeiG, delivered a speech entitled "MeiG and Qualcomm on the Road of New Retail", introducing the R&D plan of MeiG's products roadmap and 5G technology in the new retail field. He believed that the new generation of integrated technologies, such as face payment, intelligent data collection, 5G network, edge computing, big data analysis, AI, etc., are flooding into the new retail field, improving the user experience and enhancing the market imagination of retailers. MeiG has provided many intelligent hardware and solutions with customers in the new retail field. With strong R&D team support, MeiG helps customers quickly realize the launch of new products.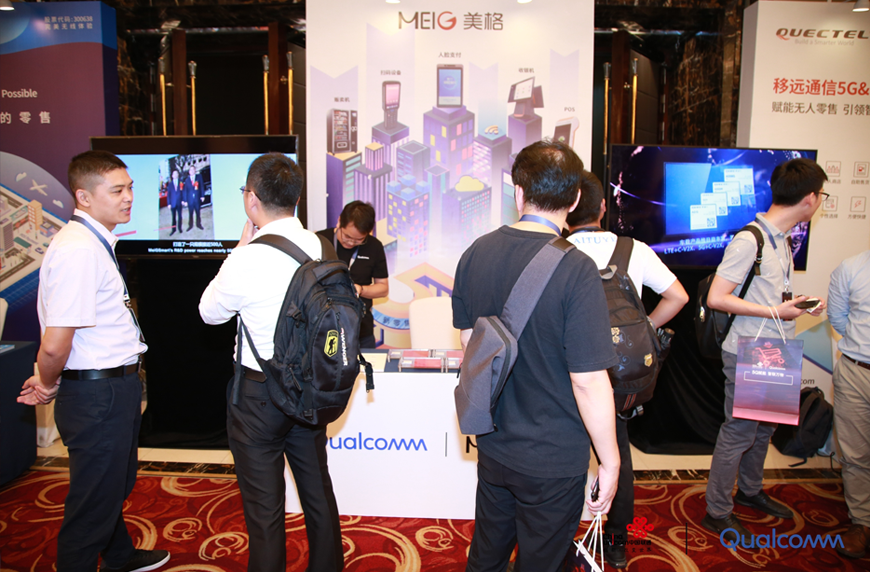 MeiG staff communicate with customers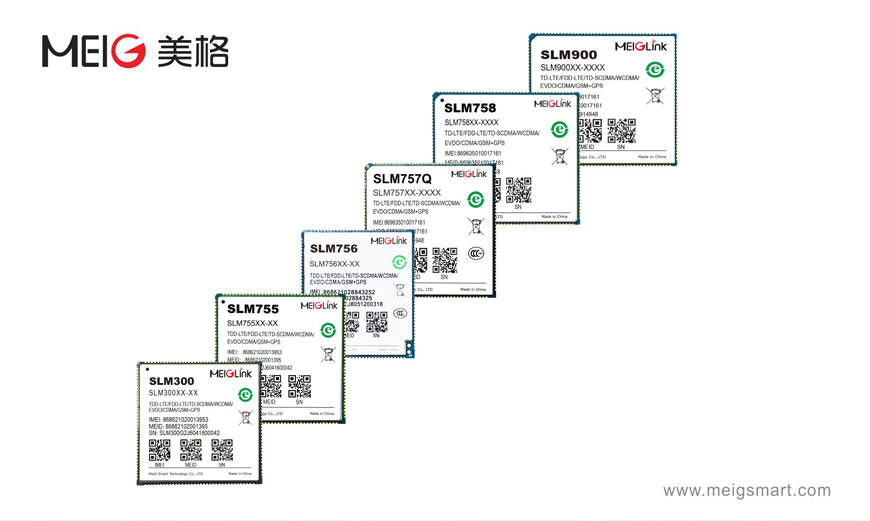 MeiG Smart Module Portfolio
As the world's leading provider of Internet of Things terminals and wireless data solutions, since MeiG launched the first Qualcomm quad-core smart module SLM751 series in early 2015, MeiG has developed many smart module products such as SLM300 series, SLM755 series, SLM756 series, SLM757Q series, SLM758 series and SLM900 series. MeiG has the richest 4G Android smart module product line in the Internet of Things industry. Most modules have passed various global certifications such as IC, CE, CCC, FCC, PTCRB, AT&T, etc., and are widely used in various fields of the global IoT industry. At present, they have been used in intelligent logistics equipment, POS, intelligent cash register, intelligent information collection equipment, intelligent monitoring equipment, smart home hardware, intelligent access control, intelligent attendance, vending machine, driving recorder and smart vehicles.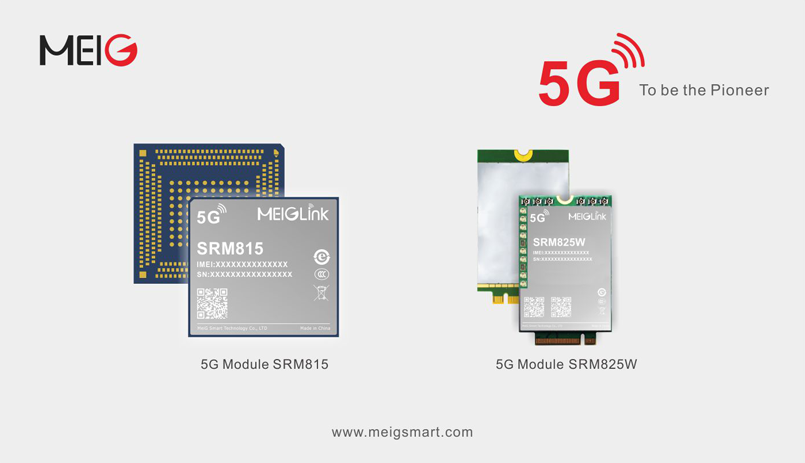 MeiG 5G Modules SRM815、SRM825W
At the seminar, MeiG displayed two 5G communication modules SRM815 and SRM825W in different packages (LGA and M.2), which are based on Qualcomm SDX55 5G baseband chip design. These modules can support 3G/4G/5G formats and 5G commercial network bands of major regions and carriers in the world. It conforms to the 3GPP R15 standard, supports 5G SAand NSA, LTE Cat.22 network connection, and integrates GNSS internally.
MeiG will provide customers with better quality and diverse services in the 5G era. In addition to developing and producing basic data transmission modules, MeiG will also provide transmission solutions (products including 5G BOX and 5G CPE/MIFI) and solutions based on industry customization (products including AR/VR and industrial control robots, etc.). The products and solutions provided by MeiG can be widely used in different industries such as high-speed CPE, 4K/8K HD multimedia video terminal, AR/VR, industrial router, intelligent industrial manufacturing, intelligent vehicle, etc., to ensure that customers fully enjoy the pleasure and convenience brought by 5G.
In the future, MeiG will join hands with industrial chain partners to promote the innovative development of the new retail industry, speed up the application scenarios of new retail industry partners' products, continue to increase investment in R&D capital, and promote the empowerment of 5G in thousands of industries with an open mind, bringing more opportunities to new retail and other industries.