On the evening of December 26th, 2017, the red "Chinese knot" and the emblem of Beijing 2022 Winter Olympics and Paralympic Winter Games appeared on the screen of China Unicom Building at Xidan, Beijing, which marked that China Unicom has become the official communication service partner of Beijing 2022 Winter Olympics and Paralympic Winter Games.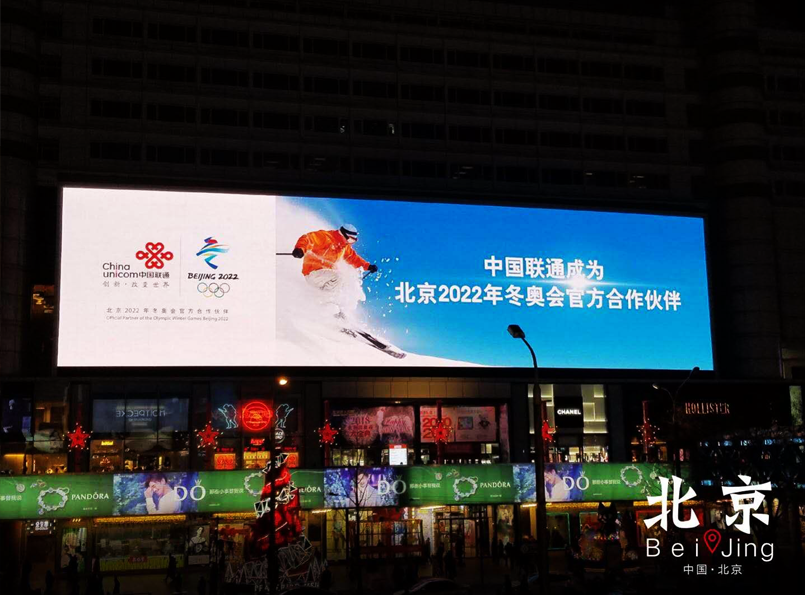 One year later, on December 26th, 2018, China Unicom held a conference themed"5G Empowering Smart Winter Olympics" in Beijing. The strategy of "5G Empowering Smart Winter Olympics" will play an important role in carrying forward the Olympic spirit, promoting the development of winter sports industry and helping to achieve the goal of "300 million people participating in winter sports".
In order to make a Winter Olympics that can truly be called "smart", China Unicom has made many forward-looking conceptions and layouts for sports scenes.
The traditional live broadcast of large-scale sports events is generally from the third perspective. Although the events can be fully displayed, it is difficult for the audience to have an immersive experience of these sports events through live broadcast. With the continuous development of 5G and other technologies, China Unicom is exploring the field of live broadcasting from the first perspective.
5G cuts into the first perspective live broadcast
"Win!" Can you imagine the excitement at the moment when you see the competitors overtaken from the perspective of athletes on the field?
China Unicom believes that with the help of 5G, VR and anti-shake, the high-definition live broadcast from the first perspective will make users feel more substituted when watching sports games. Therefore, China Unicom, based on its accumulation in IoT, big data, cloud computing, artificial intelligence and other technologies, has cooperated with Qualcomm to explore 5G camera products in the field of live broadcast from the first perspective.
As the 5G camera needs to be worn on athletes, and the athletes themselves are moving at a high speed, it puts forward higher requirements on the camera's dynamic picture capturing and anti-shake ability. Once problems occur in these two aspects, the audience will easily feel dizzy, sick and have other discomfort. Besides, the camera placed on athletes is limited by the size and weight, resulting in the difficulty to have strong computing power.
With the rapid development of 5G technology, its ultra-large bandwidth can not only bring faster video transmission rate, but also transfer some computing power to the cloud, reducing the "pressure" on the terminal side, making the product design smaller and lighter. More importantly, the unique low-latency characteristic of 5G can also give 5G cameras a strong dynamic capture capability, and eliminate the uncomfortable feeling of users.
Of course, in China Unicom's vision, this camera is not limited to the Winter Olympics itself, and its application scenarios will be very extensive. For example, in some sports such as skiing, cycling and mountaineering, especially extreme sports such as climbing Mount Everest, many people have strong curiosity, but it is difficult to practice in real life. If we can bring the immersive experience to users through the first visual perspective, we can further create unprecedented commercial value.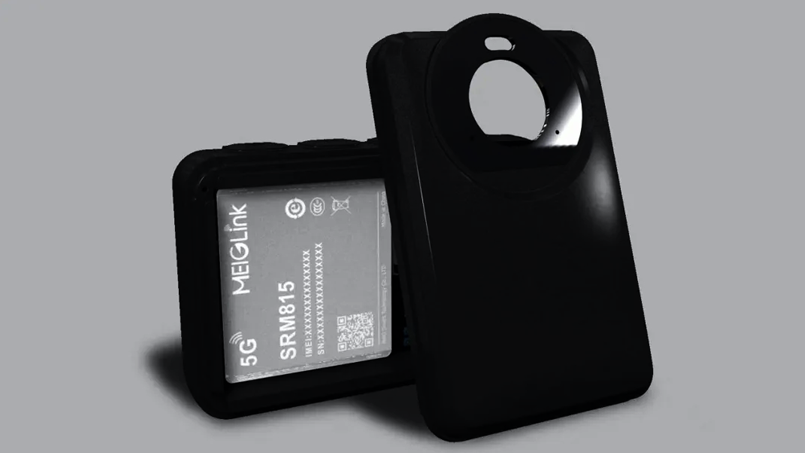 It is reported that the 5G camera has built-in MeiG Smart 5G module SRM815 based on Qualcomm Snapdragon SDX55 platform, and integrates international advanced intelligent coding technology and dynamic picture capture technology, which can realize stable and reliable live broadcast of high-quality video images. Pei Boqi, general manager of the 5G terminal industry center and innovation business department of Unicom Huasheng Company, explained why they choose Qualcomm as their cooperator: "Qualcomm, as one of the leading players in the global 5G chip field, has a strong R&D capability, and its earlier launched chipsets can help our products seize market opportunities. Different from 4G, China has already assumed the lead in the field of 5G, and needs to make breakthroughs in terminals and applications. Therefore, China Unicom and Qualcomm can take the lead in joint research and development of general type products in 5G. Once the products are mature, they will help promote the large-scale IoT connection in related fields. In addition, China Unicom has also established a joint R&D laboratory with Qualcomm to jointly promote the development of 5G terminals. "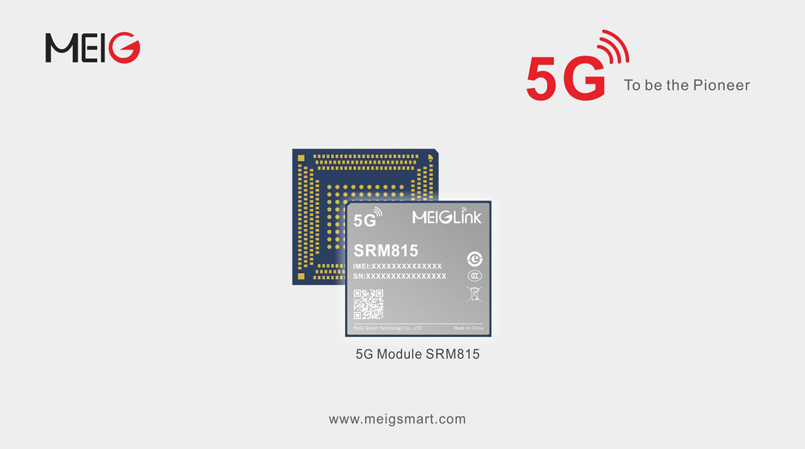 In July, 2019, MeiG Smart released the communication module SRM815 based on Qualcomm SDX55 5G baseband chip, and simultaneously pushed out customized solutions for industries such as eMBB based on 5G module. This series of modules can support 3G/4G/5G, support 5G commercial network bands of major regions and global carriers. It conforms to the 3GPP R15 standard, supports 5G SA and NSA, supports LTE Cat.20 network connection, and integrates GNSS. It can be widely used in CPE home gateway, HDTV, AR/VR, industrial router, set-top box, vehicle terminal, industrial internet and other fields.
Of course, China Unicom's exploration in the field of smart Winter Olympics is far more than 5G cameras. At present, China Unicom has built ten smart application products, including smart watching, cloud broadcasting service and smart venues, around the three scenarios of 2022 Winter Olympics, and started to practice in venue design, which has been highly recognized and praised by the Organizing Committee of the Winter Olympics.
China Unicom believes that 5G will also have a far-reaching impact on the live broadcast, which may subvert far more than the 5G cameras that support broadcast live from the first perspective.
5G boosts changes in the live broadcast field
If asked what industry is the hottest in 2020, live marketing must have its name. Recently, a large number of business owners and online celebrities have started cross-border live broadcasts, which has created numerous sales miracles, and the development of the live broadcast industry has become more mature. However, 5G will also trigger a major change in this so-called "mature" marketing field,
China Unicom believes that the integration of 5G and live broadcast will contribute to a subversive reconstruction of people, goods and fields in the sales industry. On the one hand, the high-speed transmission of 5G can achieve real-time imaging, bringing users a non-inductive experience; On the other hand, 5G network coverage may also realize "Shopping at any time anywhere" in the future.
For example, during the epidemic, almost all physical stores were greatly impacted. Facing this market change, China Unicom launched VR business hall quickly. Users can realize interactive offline services like choosing mobile phones, setting up service plans and doing business only by wearing VR glasses. These services are connected with China Unicom's shopping platform and billing system, allowing users to be immersive without leaving home, which is one of the business model innovations brought by 5G.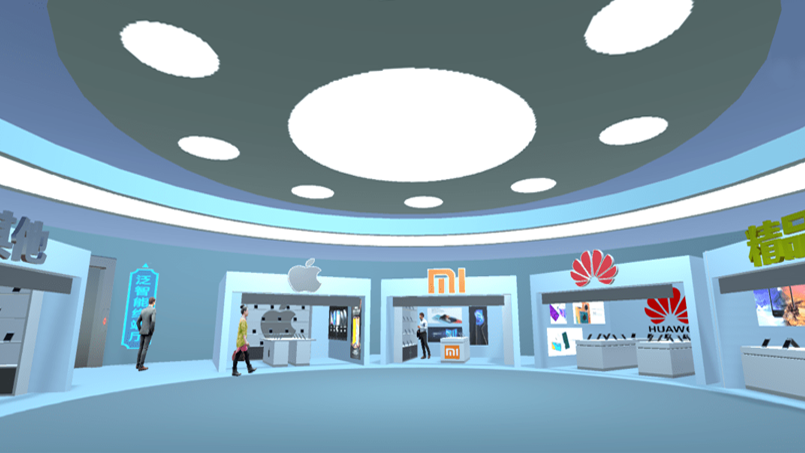 Picture of the VR platform
The practice of this innovation depends on the high-speed transmission capacity and ultra-low latency of 5G. The immersive function of VR requires very high definition. Once there is delay or stuck, it will bring serious vertigo to users, and 5G can just meet its dual requirements in terms of speed and latency.
In addition to live broadcast, China Unicom is also actively deploying the application of 5G in smart media. In view of the live broadcast, off-site virtual live broadcast and online news production, China Unicom has realized the high standard definition video capture, cloud transcoding, online non-editing and so on through the integration of cloud, 5G network technology, 5G backpack, AR interview glasses and 5Gnlive platform.
Conclusion
As the so-called "5G changes the society", the industries that 5G will change are far more than live broadcast and media, and it will also bring subversive influence to industries such as industrial Internet, smart city, vehicle-road coordination/smart transportation, medical care and education.
In the field of industrial internet, China Unicom has achieved industrial-level remote control based on 5G SA network in Qingdao Port, and realized intelligent wharf with unmanned loading and unloading on shore, unmanned horizontal transportation and unmanned gate inspection by using 5G technology, thus saving about 70% of labor cost. What's more, China Unicom is also cooperating with COMAC, providing communication guarantee for the first flight of C919, and building a smart factory for COMAC that covers 5G in all aspects of production, sales, procurement and service.
In the field of smart healthcare, China Unicom has also deployed remote smart healthcare systems in many hospitals such as Wuhan and Beijing. For users in remote areas, it is difficult for famous expert doctors to come to the door at the first time. Telemedicine, including remote pathological diagnosis, remote medical imaging diagnosis, remote consultation, remote outpatient service and even remote surgery, has become a reality through 5G full real-time transmission and ultra-low latency transmission.
Undoubtedly, 5G has begun to truly penetrate into our lives, and the changes may far exceed imagination ...