Recently, MeiG Smart released its 5G smart module SRM900, equipped with Qualcomm's latest Snapdragon 690(SM6350) platform. It adopts newly optimized Kryo 560 CPU architecture, and is designed based on ARM A77/A55, including two large cores A77(2.0GHz), and six small cores A55(1.7GHz). Its performance has been improved up to 20%. Integrating the new Adreno 619L GPU, the graphics rendering performance has also been improved by up to 60%.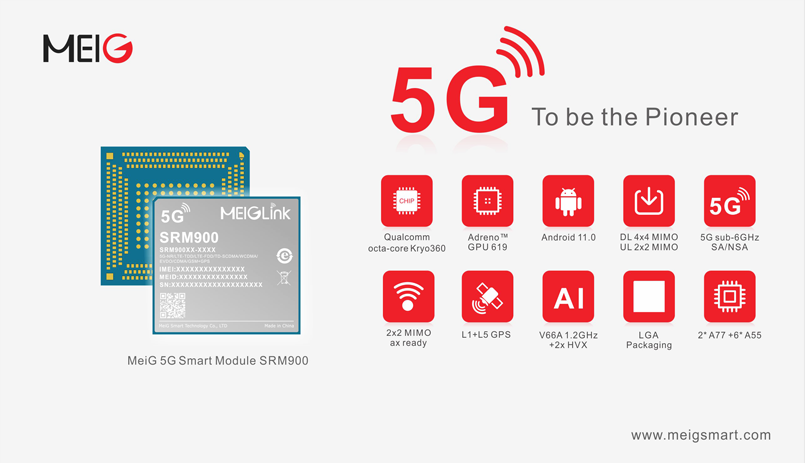 The module of SRM900 is packaged in LCC+LGA, and its size is 48 * 50mm. The built-in latest Snapdragon 690(SM6350)CPU can support the minimum 4GB LPDDR4X RAM and 64GB UFS2.1 storage.
In terms of wireless connection, this module adopts X51 5G modem and RF system, which supports 5G/4G network in global frequency band, 2*2 Wi-Fi ac Wave2, and Wi-Fi 6 Ready. Wi-Fi 6 supports OFDMA technology, MU-MIMO, 1024QAM, BSS Coloring, TWT and other key technologies, which notably improves the uplink and downlink rates, and supports multiple terminals to transmit in parallel at the same time, free of waiting in line and competing, thus greatly improving the transmission efficiency and connection density.
At the same time, SRM900 module supports L1+L5 dual-frequency GPS positioning, and can receive satellite signals of two frequency bands simultaneously, thus reducing the latency influence of electromagnetic wave signals, speeding up the solution of track ambiguity and enhancing the positioning accuracy.
Adhering to the consistent style of MeiG Smart, SRM900 series modules dig deep into industry applications, and give full play to the core advantages of SRM900 modules in VR/AR, high-definition video, Internet of vehicles, industry handheld terminals and other application fields, so as to assist customers in rapid development and landing of projects.
Besides, MeiG Smart also provides professional and comprehensive customized services to help customers save investment in platform development, and customers only need to focus on in-depth development of applications, which greatly enhances the competitiveness of customers' products.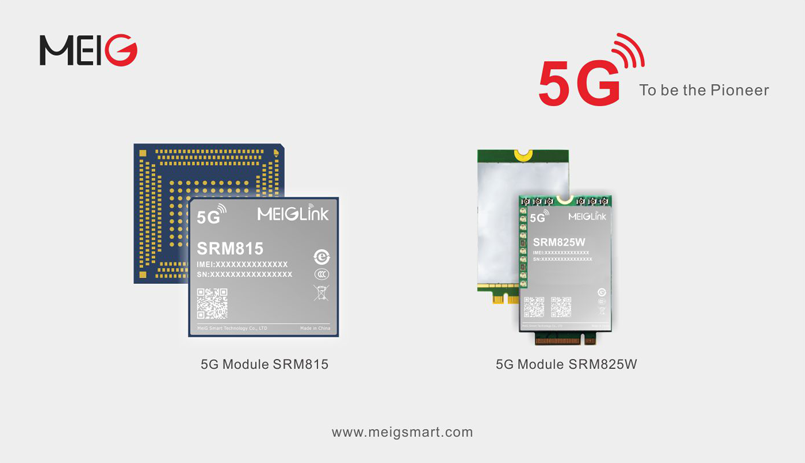 MeiG Smart, as an industry model dedicated to the IoT field, has established its own reputation and industry contribution in many fields. In addition to supplying traditional NB-IoT/Cat.1/Cat.4 data transmission module, the latest 5G data transmission module SRM815/SRM825W based on Qualcomm SDX55 and the recently launched 5G smart module SRM900 are the crystallization of MeiG's engineers. Nearly hundreds of experts and engineers in the field of radio frequency, wireless fidelity and antenna gathered together to build the latest 5G SoC module to foster the industry to move forward.
Meanwhile, MeiG Smart actively improves the simulation environment of wireless network testing, and builds its own simulation network testing laboratory to help customers simulate the field testing environment of overseas carriers in China.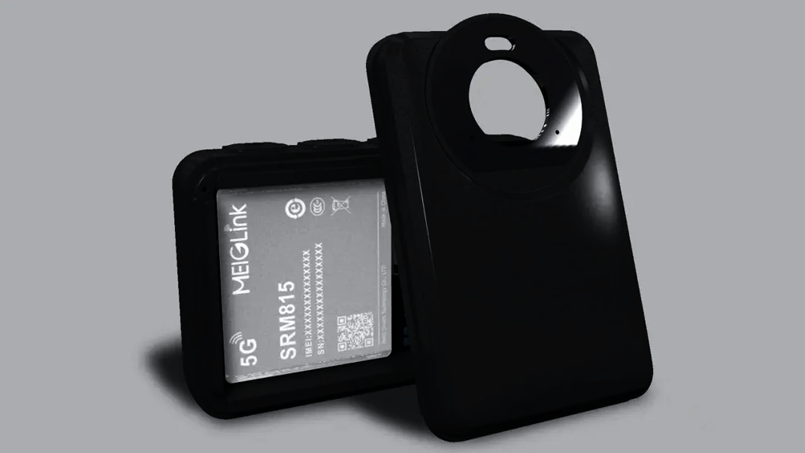 Recently, MeiG and China Unicom together released a sports camera with SDX55(SRM815 module) +SDM450 to help the Smart Winter Olympics. This is also a new breakthrough in industry application. With high bandwidth, low latency and wide connection, users can feel the Winter Olympics from the first perspective without leaving home. With the gradual application, soon, 5G will have a profound impact on various industries.
In the future, MeiG Smart will continue to increase investment in research and development of 5G products, and give back to every partner with high-quality products and meticulous services.