Recently, MeiG Smart, the global leading supplier of cellular modules and solutions, in collaboration with Gan-dao released two blockchain modules: 5G SRM815BC module (5G+ blockchain) and Cat.1 SLM320BC(Cat.1+ blockchain).
These two modules integrate the domestic, secure, autonomous and controllable Hyperchain blockchain core technology, and adopt TrustZone chip-level security architecture, which can provide more targeted solutions to meet the personalized needs of different business scenarios, especially those with higher requirements for data security.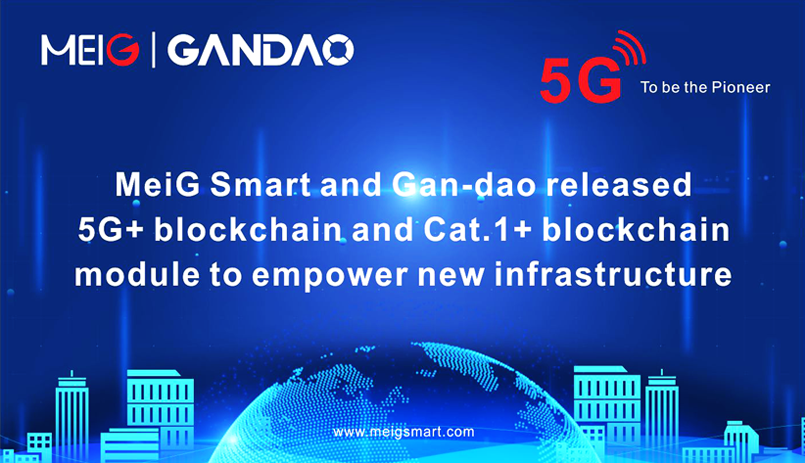 With the integration of blockchain technology, the SRM815BC module of IoT 1-5g and the SLM320BC module of IoT 1-—Cat.1 directly collect the source data on the equipment, and everyone in the system participates in the distributed characteristics of data recording and storage, which ensures the authenticity, reliability and safety of data. Functionally, IoT No.1 integrates digital identity verification of IoT equipment, privacy protection of equipment data, data storage and data traceability, which can solve the practical problems such as logistics supervision, privacy protection, judicial storage, business integrity and commodity traceability.
In addition, they have complete hardware expansion, support multi-system platforms, and various hardware integration interfaces. Functions like data collection, data return, control instruction sending and receiving, monitoring, visual application, equipment informatization can enable equipment interconnection and remote interactive application in industrial environment. With the advantages of industrial-leading transmission rate, stable performance, millisecond-level low latency and good heat dissipation, the SRM815BC module of IoT 1-5G and SLM320BC module of IoT 1-—Cat.1 can be widely used in CPE home gateway, HDTV, AR/VR, industrial router, set-top Box, carrier terminal, industrial internet and other fields.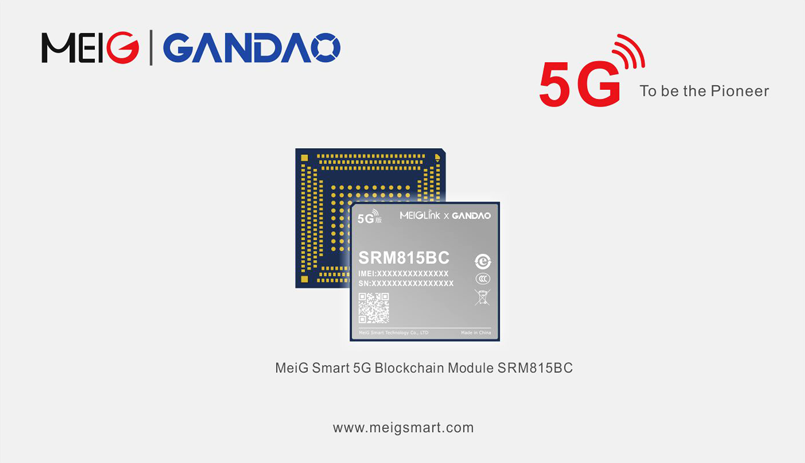 MeiG Smart 5G Blockchain Module SRM815BC
MeiG Smart 5G blockchain module SRM815BC adopts Qualcomm SDX55 5G baseband chip platform. This series of modules can support 3G/4G/5G formats and 5G commercial network bands of major regions and operators in the world. It conforms to the 3GPP R15 standard, can support 5G SA and NSA, supports LTE Cat.20 network connection, and integrates GNSS global navigation satellite system internally. Based on 5G module, customized solutions for eMBB are provided, which can be widely used in CPE home gateway, HDTV, AR/VR, industrial router, set-top Box, vehicle terminal, industrial internet and other fields.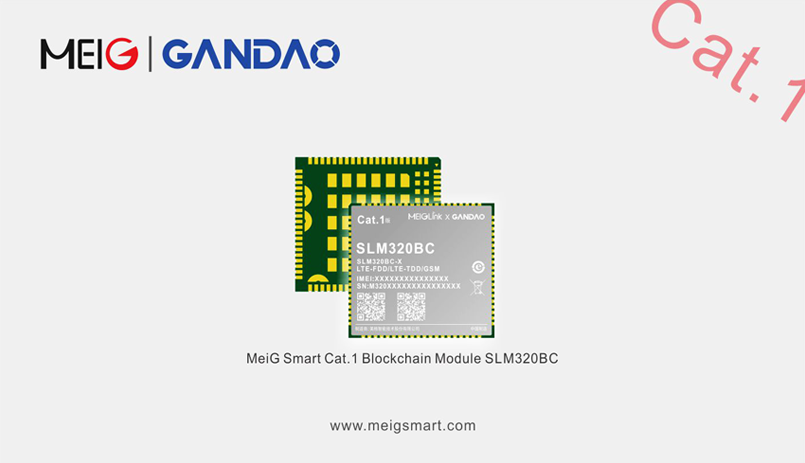 MeiG Smart Cat.1 Blockchain Module SLM320BC
MeiG Smart Cat.1 blockchain module SLM320BC adopts UNISOC 8910DM new generation Cat.1 IoT chipset platform, which supports LTE Cat.1bis and GSM dual modes, with an uplink rate of 5Mbps and a downlink rate of 10Mbps, and has high integration. Besides, it integrates Bluetooth communication and Wi-Fi indoor positioning, which can realize more stable connection and support VoLTE. With a size of 32.0×29.0×2.4mm and compatibility with the previous Cat.4 module, it greatly facilitates the design and switching of customers.
This series of modules consists of three versions, namely SLM320 BC-C/SLM320 BC-E/SLM 20 BC-A, which fully covers the network frequency bands of major carriers in Asia, Europe and America. It can be widely used in non-inductive payment, remote care, sharing equipment, financial payment, public network intercom, advertising machine, energy meter, industrial Internet of Things and other application scenarios, providing customers with safe, reliable and stable network connection, and greatly reducing the R&D cost of customers.
On April 20, 2020, the National Development and Reform Commission officially defined the concept of new infrastructure, including information infrastructure, integrated infrastructure and innovative infrastructure. Among them, information infrastructure mainly refers to the infrastructure generated by the evolution of new generation information technology, such as communication network infrastructure represented by 5G, Internet of Things, industrial Internet and satellite Internet, new technology infrastructure represented by artificial intelligence, cloud computing and blockchain, and computing power infrastructure represented by data center and intelligent computing center.
SRM815BC module and SLM320BC module provide technical support for new infrastructure development, industrial upgrading and digital transformation through the integration of IoT+blockchain +5G technology.
Based on the new generation of 4G/5G and IoT technology, MeiG Smart, as a global leading supplier of cellular modules and solutions, focuses on providing global customers with standard M2M/ smart Android cellular modules, IoT solutions, technology development services and cloud platform systematic solutions with the MeiGLink brand as the core. MeiG's customers have covered more than 100 countries and regions around the world. Gan-dao is a joint venture that has abundant application resources and Hyperchain, the leading platform of alliance blockchain in China. The two companies' joint release of the blockchain 5G module SRM815BC and Cat.1 module SLM320BC is of great significance to the Internet of Things industry and the application of blockchain technology.