Recently, MeiG Smart 4G module SLM750 has obtained the TELEC and JATE certifications in Japan. SLM750 is the main product of MeiG Smart for many years. This certification marks the official entrance of MeiG Smart's 4G module into the Japanese market, helping to strengthen Japan's developed IoT industry and customer experience.
TELEC, which is also called MIC certification, is a compulsory certification for wireless products in Japan. JATE is a Japanese telecommunication law certification, commonly known as Japanese network access certification. As long as communication products involve public channels, JATE is required before the telecommunication products enter the Japanese market. Both TELEC and JATE strictly require the products to be tested in the designated laboratories. Approval of TELEC and JATE not only means that SLM750 can be sold in Japan but also reflects the excellent performance of this module.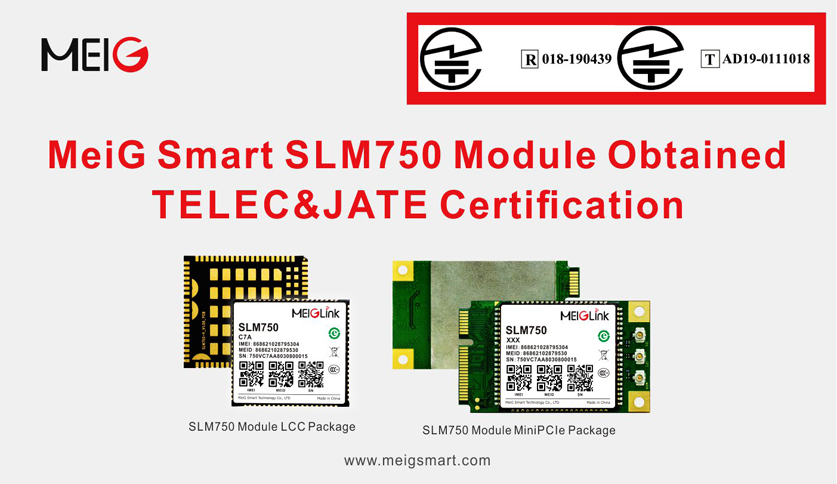 SLM750, based on Qualcomm MDM9x07 platform, is a LTE CAT4 module developed by MeiG Smart. It supports seven network modes, namely, LTE-TDD, LTE-FDD, TD-SCDMA, CDMA, EVDO, WCDMA. Two package forms, LCC and MiniPCIe, are supported. At present, SLM750 covers the main bands of China, Europe, North America, Australia, South America, Japan and other major global markets. Its highest speed can reach 150Mbp for downlink and 50Mbps for uplink. A series of rich protocols, including GNSS、FOTA、TCP/IP、MQTT、SSL, are also supported.
Through years of market tests, SLM750 module fulfills the requirements of industrial level performance with outstanding performance in environmental reliability and stability, and can meet the wide application needs of industrial gateway, shared equipment, intelligent power and other industries.
Before the acquisition of Japanese TELEC and JATE certification, SLM750 module had successively obtained CCC, CTA, SRRC, CE (RED), FCC, KC (Korean regulatory certification),RCM(Australia),NCC(Taiwan) and other regulations and compulsory access certifications, and had been recognized by China Telecom, China Mobile and other carriers.
SLM750 module supports global bands listed as below. Rich bands and a complete certification system will make SLM750 module popular around the world.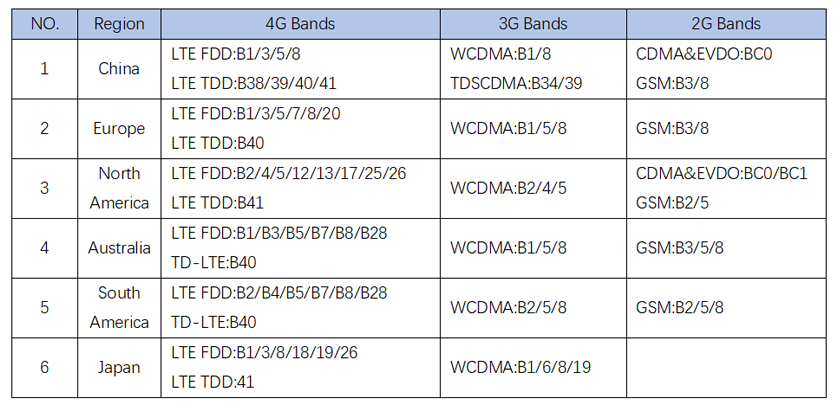 MeiG Smart has always been committed to providing high-quality cellular modules and industry application solutions. It always keeps active and close cooperation with major domestic and foreign carriers, communication regulators, certification agencies and standard setting organizations. In the future, MeiG Smart will continue to develop more products, acquire various certifications and pass access tests, to accelerate the deployment of IoT throughout the world.