In 2020, "Cat.1" suddenly appeared and trended in the Internet of Things industry. With the accelerated withdrawal of 2G/3G, Cat.1 filled the market demand of low-and medium-speed Internet of Things users. Therefore, a lot of operators and chipset R&D and manufacturing enterprises work collectively to support the development of Cat.1.
In March last year, MeiG Smart, as the world's leading supplier of cellular modules and IoT solutions, joined hands with UNISOC, the industry's leading manufacturer of cellular chips, to launch the new LTE Cat.1 series module, —SLM320, which has won several operator projects and awards from its partners since its release.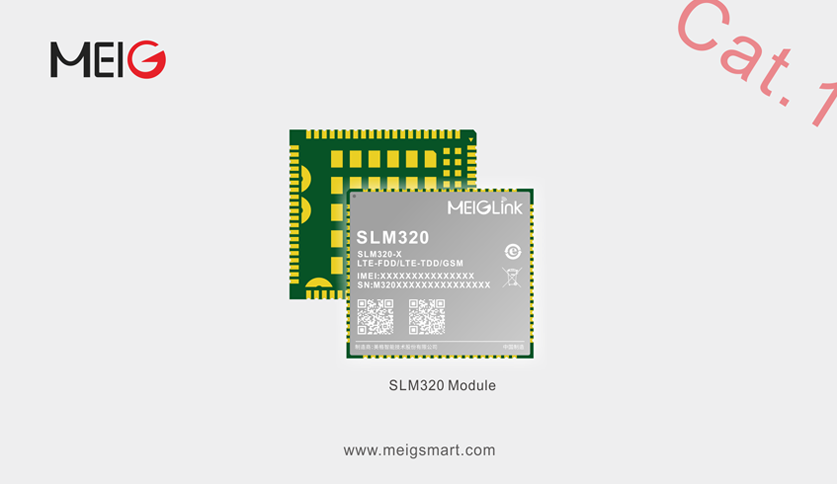 Recently, MeiG Smart has cooperated with UNISOC again and released several Cat.1 modules (SLM322, SLM326, SLM328, SLM330), which are equipped with UNISOC LTE Cat.1 bis IoT chip platform-8910DM, ultra-compact LCC and LGA package design. With smaller package and more innovative design, it is convenient for customers to carry out hardware design, production and processing, improve development efficiency, and provide a higher cost performance experience.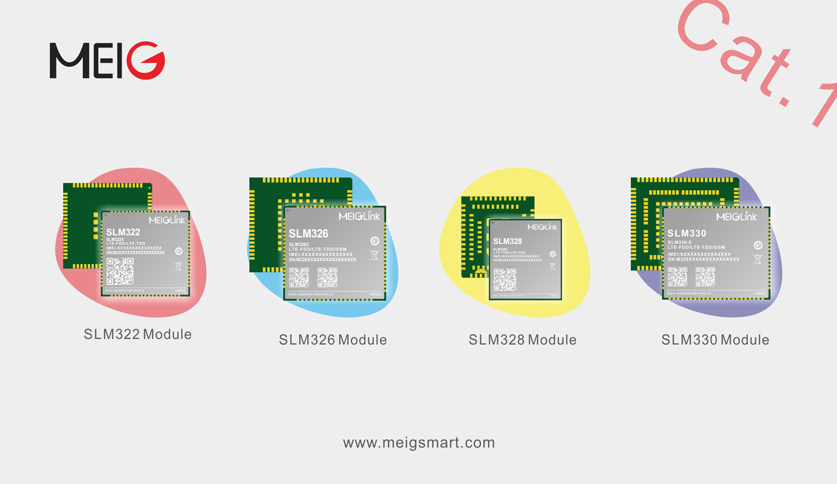 SLM322, SLM326, SLM328 and SLM330 are the new generation LTE Cat.1 modules launched by MeiG Smart. They support 10Mbps DL rate and 5 Mbps UL rate; adopt smaller packaging to meet customers' design: 22.9x23.9x2.4mm(SLM322 LCC package), 27.6x25.4x2.2mm(SLM326 LCC package), 19.6x21.8x2.4mm(SLM328 LGA package) and 29.0x25.0x2.4mm(SLM330 LCC package); rich network protocols (TCP, UDP, MQTT, FTP/FTPS, HTTP/HTTPS, LWM2M, Coap), and many industrial standard interfaces are integrated to support different peripheral expansion, greatly expanding the application scope of M2M. These modules can be widely used in various scenarios, such as new retail, industrial meter, sharing economy, financial payment, public network intercom, POS terminal, tracker, energy, and industrial control.
A major feature of MeiG Smart Cat.1 module is that it can seamlessly access the existing LTE network. It can be deployed based on mature LTE network, and the upgrade of Cat.1 can be achieved without re-laying the network.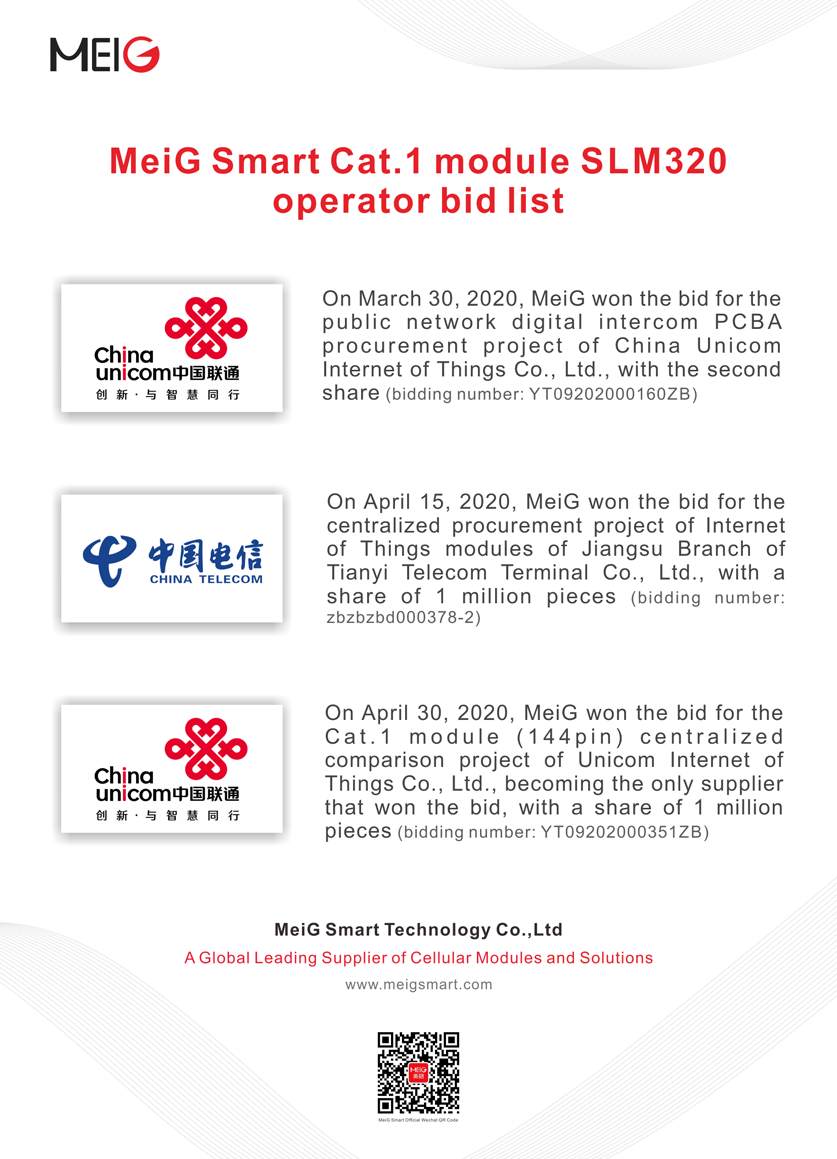 Compared with NB-IoT, the advantage of Cat.1 lies in that it has a faster transmission rate, and has the advantages of mobility and voice call function in network coverage, speed and delay; Compared with the traditional LTE Cat.4 module, Cat.1 has the advantages of low cost and low power consumption-it solves the pain point in the connection of the Internet of Things and fills the gap in the cellular communication scheme between the low-power narrowband Internet of Things and the traditional broadband Internet of Things.
At the same time, Cat.1 is compatible with the current domestic 4G network, which is very suitable for use cases with cost-effective requirements on cost performance, time delay, coverage and communication speed. It can be widely used in low-speed scenarios such as shared equipment, mobile payment, energy metering, industrial control, children's watches, public network intercom, asset and logistics tracking, vehicle transportation, wireless advertising, etc.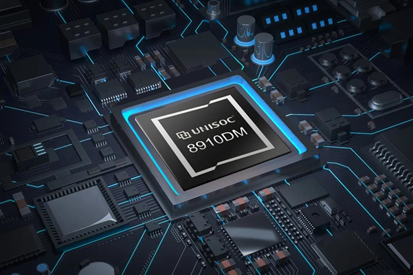 As the world's first LTE Cat.1 bis IoT chip platform, this high-integrative chipset adopts 28nm technology, supports LTE Cat.1 bis and GSM dual modes, with an uplink rate of 5Mbps and a downlink rate of 10Mbps. What's more, it integrates Bluetooth communication and Wi-Fi indoor positioning, which can achieve more stable connection and support VoLTE. Through system optimization design, 8910DM can achieve significant low power consumption.
Currently, 8910DM has completed scale field testing in 65 cities of 30 provinces domestically, and overseas field testing has also been carried out. It will cover more regions in the world in the future. The UNISOC 8910DM chipset is recognized by the industry as a very high-quality and ideal choice in terms of connectivity and technology maturity.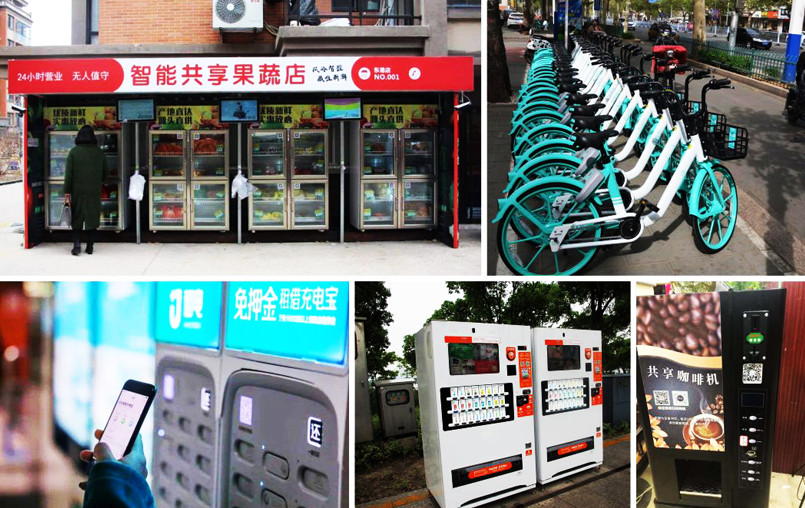 Sharing economy is another typical application scenario of Cat.1. A variety of sharing services, such as sharing charging point, sharing massage chairs, sharing vending machines and sharing bicycles, give birth to a new business model and promote the economic benefits. In the next three years, China's sharing economy is estimated to maintain an average annual growth rate of over 30%. What users need to do is to scan the QR code on the device to control the device. The sharing equipment based on Cat.1 can not only meet the requirements of man-machine interaction network transmission, but also provide a low-cost operation mode.
In the future, MeiG Smart will continue to join hands with upstream and downstream high-quality partners in the industry, and increase the research and development layout of new products and technologies in the communication fields such as 5G, LTE-A, LTE, Cat.1 and NB-IoT, to help thousands of businesses with the standard Linux modules and Android smart modules, to accelerate the arrival of the intelligent world!