As a new generation of communication technology, the development of 5G is a long-term evolution process. In July 2020, the International Organization for Standardization 3GPP (3rd Generation Partnership Project) announced that the 5G standard Release 16 was frozen, marking the completion of the first evolution version of 5G standard. The Release 16 freeze will empower 5G with stronger vitality, richer application scenarios, and inject new energy into the 5G industry.
As a global leading supplier of cellular modules and solutions, MeiG Smart recently has launched a new series of 5G module products——Sub-6GHz modules: SRM815N, SRM825N, SRM835N and SRM827, and mmWave modules: SRM825WN and SRM827W. These new modules are developed based on the Qualcomm® Snapdragon™ X65 and X62 5G Modem-RF Systems and support the 3GPP Release 16 capabilities. They excel in higher 5G transmission rate, better performance and cost-benefit.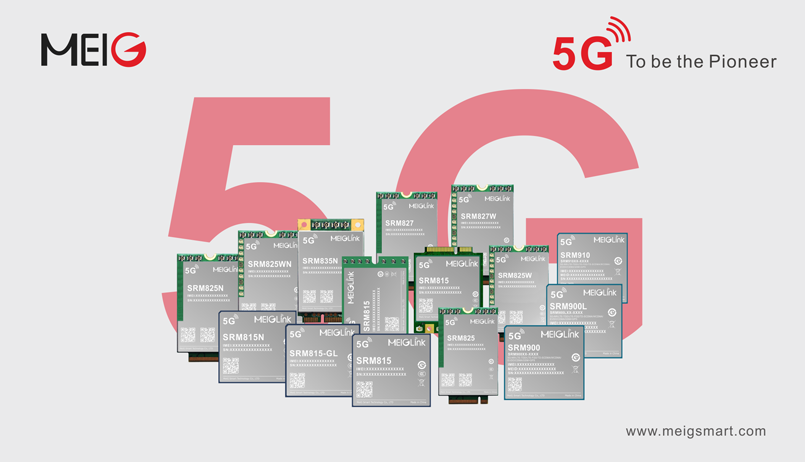 Among them, the SRM815N(LGA package), SRM825N (M.2 package), SRM835N(MiniPCIe package) and SRM825WN(M.2 package) modules are developed based on the Snapdragon X62, pin-to-pin with SRM815 and SRM825(W) series modules (Snapdragon X55), and support 3G/4G/5G multiple network formats, covering 5G commercial network bands of major regions and carriers around the world. Under 5G Sub-6GHz, they can fully support TDD/FDD 2CC carrier aggregation, with the maximum bandwidth of 120MHz, thus effectively improving 5G transmission rate.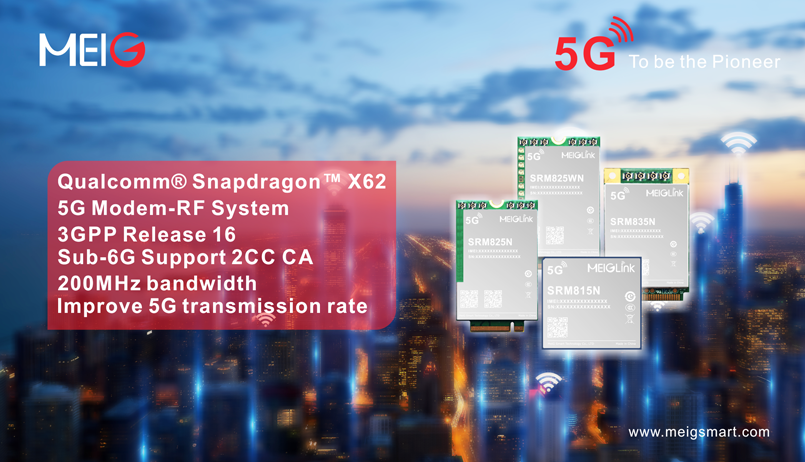 SRM827 and SRM827W(mmWave) modules are developed based on the Snapdragon X65, which is the 4th generation 5G modem-to-antenna solution introduced by Qualcomm Technologies, Inc. and designed for global 5G deployment. Under 5G Sub-6GHz, it can fully support TDD/FDD multi-CC carrier aggregation, with the maximum bandwidth of 300MHz, and support the dual connection of Sub-6GHz+mmWave, with the highest peak DL rate of 10Gbps. Provided with unprecedented powerful performance and technological innovation, the products show leading advantages in network flexibility, capacity and coverage, and can meet various 5G subdivision fields.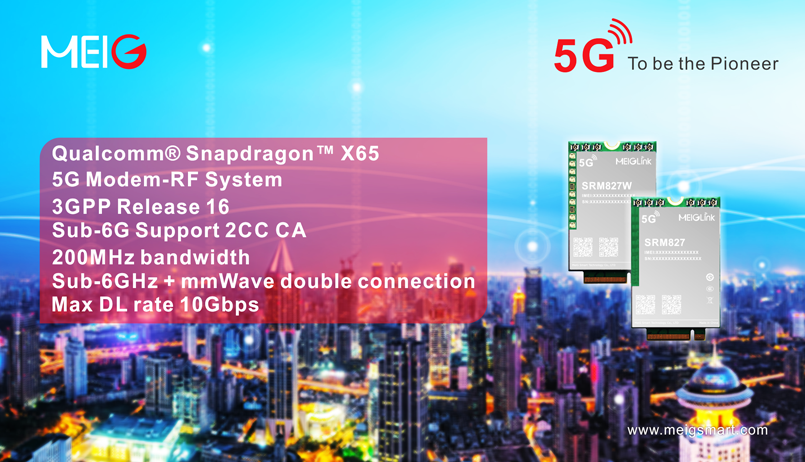 By virtue of Release 16's ultra-reliability and low latency, MeiG Smart newly released 5G modules further empower vertical fields such as industrial internet, unmanned driving, intelligent manufacturing, 5G private network, intelligent agriculture, etc., to foster the rapid development of 5G industry.
Gang Sun, vice president of product marketing, Qualcomm International (Shanghai) Co., Ltd. remarked that:
"We are pleased to support MeiG Smart in releasing the series of 5G modules using Snapdragon X65 and X62 Modem-RF Systems, which will help 5G expand into multiple fields and empower its vertical industries and use cases. The Snapdragon X65 Modem-RF System integrates Qualcomm Technologies' expertise across many fields and is a complete modem to antenna solution. It has industry-leading speed, upgradable architecture and brings strong network capacity and coverage. Its advanced feature set can help MeiG to build top-class 5G devices for its customers around the world. "
MeiG Smart CEO Benjamin said:
"In 2019, we released a number of 5G module products based on the Snapdragon X55 Modem-RF System. Simultaneously, we also introduced customized solutions for Fixed Wireless Access (FWA) and other industries based on these 5G modules. At present, MeiG's products have been commercialized in the fields of ultra-HD video, intelligent network connection, intelligent security, industrial internet, new retail, etc. We are very happy to continue to cooperate with Qualcomm Technologies. Based on its newly released Snapdragon X65 and X62 5G Modem-RF Systems, we will increase the R&D input in module products and give back to our partners with better products and services, together to foster 5G application in various industries.