Recently, MeiG Smart, as the pioneer of smart modules and solutions and the world's leading supplier of cellular modules and solutions, officially announced its launch of 5G smart module-SRM930 series based on Qualcomm Technologies, Inc.'s new 5G solution, the Qualcomm QCM6490.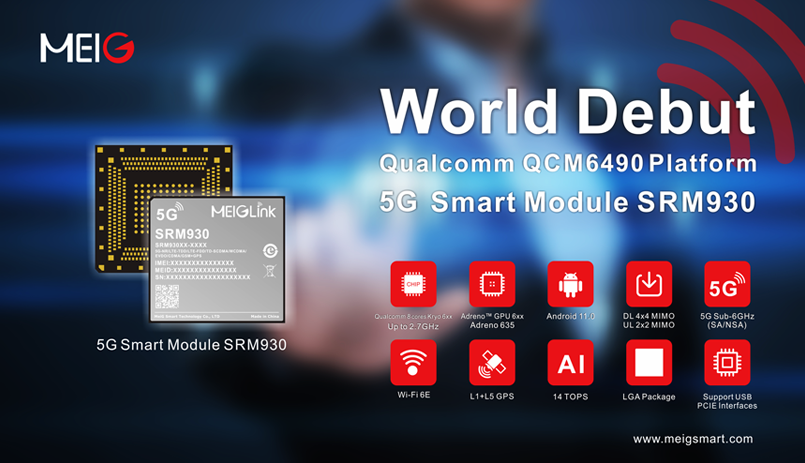 The Qualcomm QCM6490 solution adopts 6nm process, which improves the performance and functions compared with the previous generations of Qualcomm Technologies' IoT solutions: the maximum core frequency of CPU is increased to 2.7GHz; GPU is upgraded to Qualcomm® Adreno™ 642L GPU; comprehensive AI computing power exceeds 14 Tops. It supports Wi-Fi 6E with DBS, expands 2 PCIE interfaces, adds 1 USB2.0 interface to 1 USB 3.1 interface, and extends the life cycle to 2028.
The 5G smart module SRM930 series adopts LGA design with the size of 47.0 x 48.0 x 3.0 mm. Its forward PIN is compatible with SRM900 (SM6350 platform) and SRM900L (SM4350 platform), and is matched with SRM900 and SRM900L of high, medium and low series, offering flexible customer selection.
Relying on the powerful performance and rich interfaces of Qualcomm QCM6490, SRM930 can be widely applied to fields such as intelligent cockpit and 5G live streaming.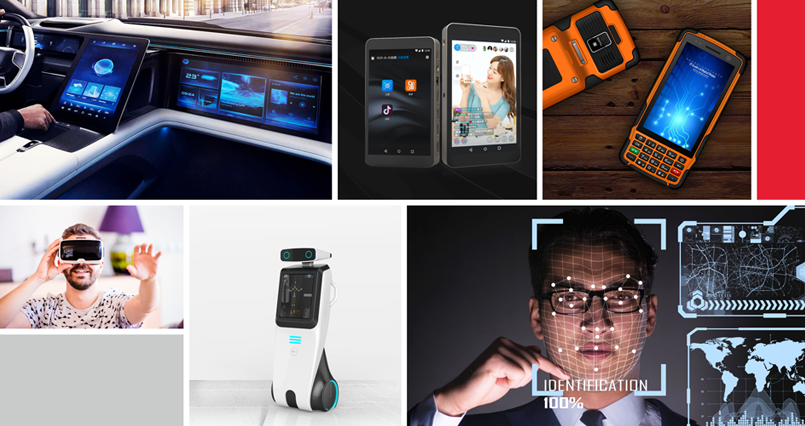 Use Cases
Intelligent Cockpit
Equipped with high-performance GPU, SRM930 can support "one core and multiple screens", multi-screen linkage and multi-screen touch, as well s high-resolution display and 3D rendering. At the same time, it can access multi-channel camera signals, which can realize the fast display of reversing images, 360-view stitching and other applications. In terms of AI computing power, SRM930 also shows excellent performance: its comprehensive computing power can reach 14 Tops, which is 5 times higher than SRM900. Its computing power is on a par with L2 self-driving chip, can help support driver behavior detection, lane distance confirmation, and recognition of traffic signs, pedestrian and obstacle.
5G Live Streaming

With 5G's advantages of large bandwidth and low latency, SRM930 5G live streaming solution can support 4 HDMI IN cameras, HDMI video output, dual USB and multi-channel UART interfaces. It also supports PCIE interface, Wi-Fi 6E and other features. This solution expands the types of external devices for live streaming, and realizes flexible switching of different backgrounds such as pictures, PPT, videos and close-ups. The perfect integration of director, encoder, acquisition card, monitor, audio console, computer, large-screen device and teleprompter enables diverse use cases, which greatly improves the live streaming to the professional level.
MeiG Smart CEO Du Guobin says to the release of the Qualcomm QCM6490 solution:

"Qualcomm Technologies, as an important ecosystem partner of MeiG Smart, has cooperated with us for many years driving leading solutions from LTE to 5G. The products have been widely commercialized in different industries in every corner of the world. With the launch of the Qualcomm QCM6490 solution, we are very honored to be one of the first module manufacturers authorized to develop SRM930 module product. With its excellent multimedia capabilities, high computing power and rich interfaces, SRM930 will be applied in various fields like intelligent cockpit, 5G live streaming and help accelerate the transformation and upgrading of different industries. "
"We are pleased with the news of MeiG's new module based on our IoT solution, the Qualcomm QCM6490. This new IoT module further exemplifies Qualcomm Technologies' support in driving global digital transformation across industries. The Qualcomm QCM6490 enables MeiG's new module to provide cutting edge performance with premium-tier features including global 5G connectivity and WiFi6E with DBS for next generation devices and use cases for industrial and commercial IoT applications," said Vieri Vanghi, vice president, product management, Qualcomm Europe, Inc.

In the future, the smart upgrade of the intelligent industrial chain with 5GAIoT as its core will keep accelerating. As a customer-oriented company, MeiG provides end-to-end solutions, modules, FWA intelligent terminals and customized IoT solutions to the market, to empower and create value for thousands of businesses.