Driven by the "Broadband China" national strategy and the policies on facilitating faster and more affordable internet connection, the domestic broadband industry has got a rapid development. By the end of November 2020, China's optical fiber users accounted for 93.4% of the total broadband population, and the percentage of 100Mbps and above accounted for 89.4%. In rural and remote areas, 98% of the administrative villages have achieved "dual communication" (fiber and 4G).
Meanwhile, few overseas countries can reach the level of China's infrastructure deployment, therefore FWA has become a common means to replace broadband. Let's take the United States as an example. This country's optical fiber network only covers 32%, and its heading operators such as Verizon and AT&T have announced that their 5G rate priority investment field is FWA. Especially during the pandemic, a stable and high-speed network has become an urgent need for people to work and study at home. The development of 5G communication technology has made 5G FWA a new opportunity in overseas markets used to replace optical fiber, to access to the last mile.
FWA fixed wireless access is a method to furnish Internet services to subscribers using wireless access methods such as 4G/5G, instead of using copper cables and optical fibers. Up to now, more than 120 countries around the world have deployed 4G FWA solutions on more than 492 networks, providing services to 100 million households. LTE-based FWA has been proven to be capable to offer continuous high-quality broadband access in a variety of distinct usage scenarios and diverse market conditions. It is estimated that by 2022, LTE-based FWA services will account for 40% of all fixed wireless broadband users, of which, 5G FWA service users will account for 16%.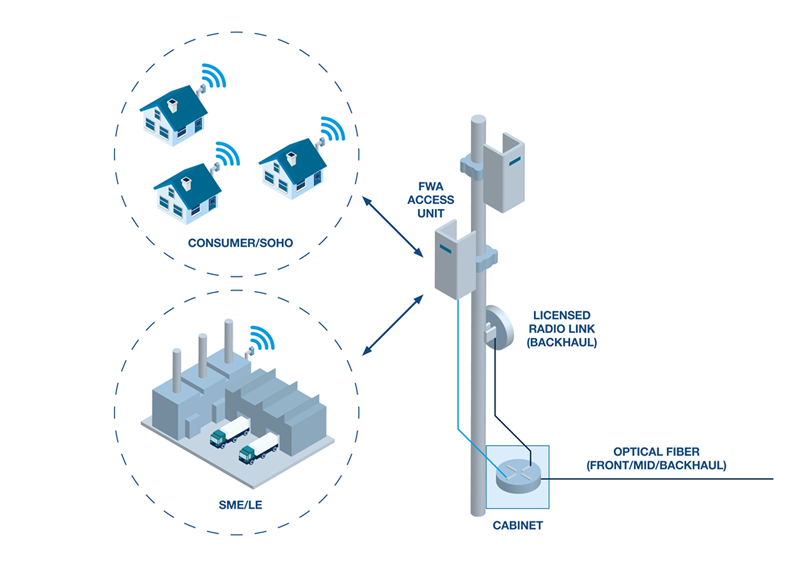 What can 5G FWA bring to us?
1、For areas with low fixed broadband penetration, 5G FWA can be used to drive the first broadband service and access to Internet with a speed close to fiber optics.
2、For countries with high fixed broadband penetration, 5G FWA can challenge traditional services such as DSL/Fiber/Cable and provide more cost-effective services.
3、5G FWA can supplement and expand the existing services of traditional operators. In addition to eMBB service features, it also supports mMTC and uRLLC, and can realize various innovative services such as the Internet of Vehicles(IoV) and the Internet of Things(IoT).
4、5G FWA also opens a door to private, stable and customized(location area, multi-bandwidth) services in the field of Industry 4.0.。
With the development of 5G technology, 5G FWA shall provide users with a better browsing experience and meet the medium and long-term fixed broadband business needs of future smart homes, 4K, AR/VR, and SMEs(small and medium-sized enterprises).
MeiG Smart 5G modules facilitate the rapid implementation and development of FWA products
Since 2019, MeiG Smart has released a variety of 5G module products based on Qualcomm Snapdragon X55 modem and radio frequency system, and has simultaneously launched customized solutions for FWA products based on 5G modules, and established with many overseas customers good cooperative relations.
MeiG Smart's new generation of 5G M2M module product series——Sub-6GHz modules SRM815N, SRM825N, SRM835N and SRM827 series and millimeter wave (mmWave) modules SRM825WN and SRM827W series, have adopted Qualcomm's latest Snapdragon X65 and X62 5G modems and radio frequency systems conform to the 3GPP R16 standard and could support higher 5G transmission rates, with a better performance in a more cost-effective way.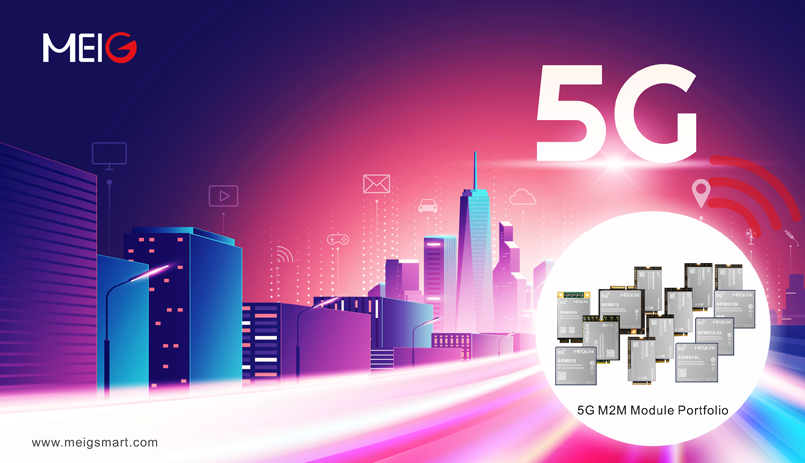 At the same time, MeiG Smart launched indoor FWA product solutions of new generation based on the 5G chipset platform---SRT873, SRT838S, employing Qualcomm Snapdragon X55 high-speed 5G solution, conforming to the 3GPP Release 15 standard, supporting independent networking (SA) and Non-independent networking (NSA) deployments, covering the 5G commercial frequency bands of mainstream operators around the world, and backward compatible with multiple 3G/4G network standards. Furthermore, the solutions integrate Qualcomm's new-generation Wi-Fi 6 chipset, capable to support 2.4G/5G working at the same time, and support multiple users to simultaneously access the smooth high-speed network. The new generation of products has been deeply optimized in terms of volume and performance, and truly realizes the "small body, great energy".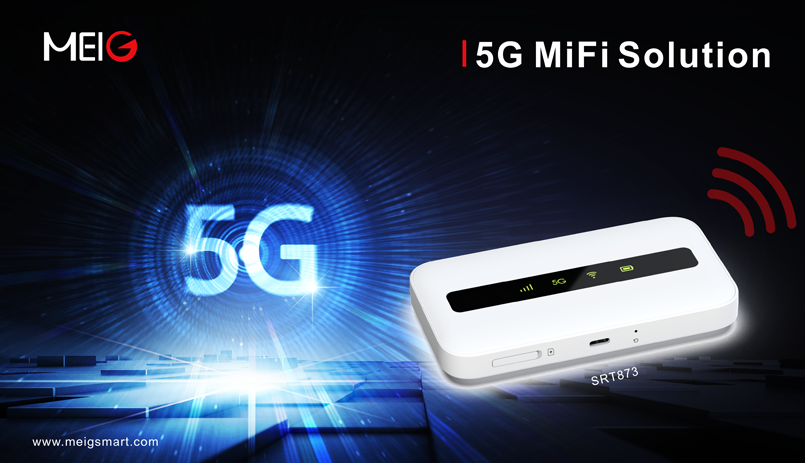 5G MiFi can convert 5G signal into high-speed Wi-Fi. It supports simultaneous access to the network through USB 3.0 type-C and Wi-Fi, and supports 5G shared by multiple devices as 4G mobile phones, tablets, laptops, etc.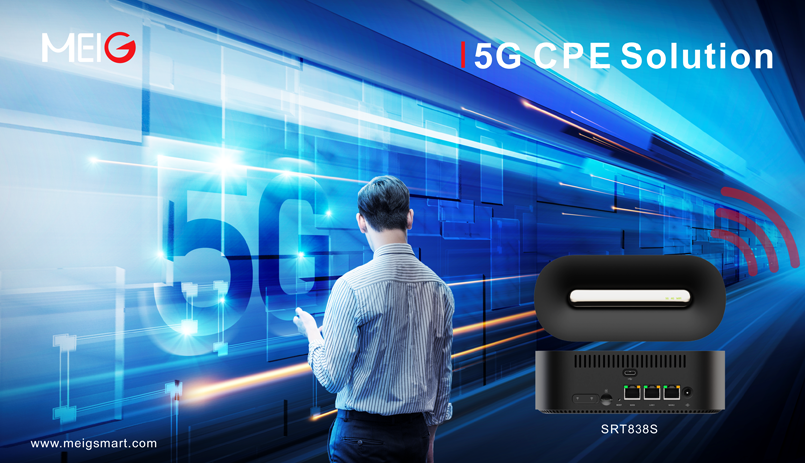 5G CPE can convert 5g signals into high-speed Wi-Fi and network port signals. It supports simultaneous access to the network through network port and Wi-Fi, and supports 5G shared by multiple devices as 4G mobile phones, tablets, laptops, etc.
To fully release the technical potential of 5G, MeiG Smart released an outdoor FWA product solution of new generation based on the 5G module SRM825W --- outdoor ODU SRT852. It is currently the best configured 5G ODU product in the industry, which shall provide a solid foundation for the last mile of broadband wireless coverage!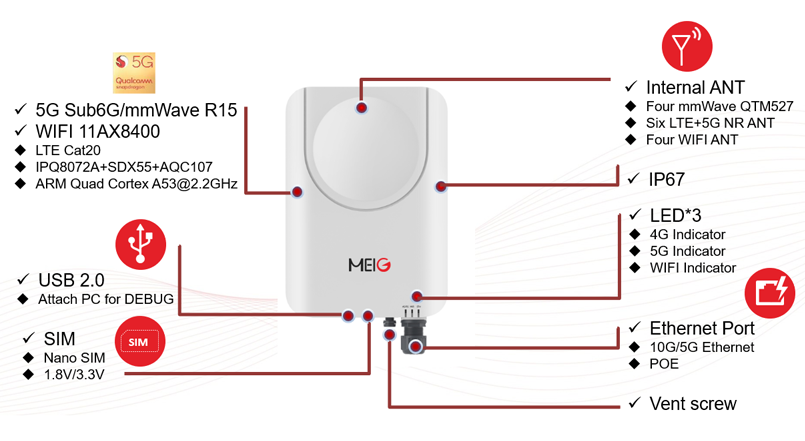 SRT852 supports 5G SA/NSA Sub 6GHz, mmWave, LTE, 3G full network and enhances the adaptability of network coverage in different regions and the stability of data connection. Its Wi-Fi 6 AX8400's theoretical rate can reach 8.4Gbps, and the simultaneous support of Wi-Fi 2.4G, 5.8G and 6G meet the needs of multi-users to access to high-speed wireless Internet, with more than 512 connections.
The 10G network port with POE function ensures a high data transmission rate while providing easy power supply for the equipment. With just a network cable, you can simultaneously comply the needs for power supply and data transmission. It facilities the installment and maintenance. The IP67 waterproof & dustproof design and the requirement of immersion in 1m deep water can fully meet the requirements of outdoor use environment.
At the same time, its integrated 4 sets of high-power QTM527 and its 50dBm EIRP plan offer the highest EIRP index in the industry at present. Higher EIRP means longer communication distance with base station and higher communication stability.
Taking into account the outdoor application scenarios, the product has a unique design in terms of low temperature, high temperature and stability. In view of the low temperature in winter in high latitude areas, the equipment has added a preheating circuit, which guarantees the equipment run at the extreme low temperature of - 40℃. For high-temperature scenarios, the product integrates a large-size ooling rack, so that the equipment can work in a high-temperature environment of up to 60 ℃.
Zhang chengzan, senior vice president of MeiG Smart, said:
"5G FWA can achieve the FWA rate of GHz level, and the delay can be as low as 1ms, and its response time is equivalent to that of a fixed network, so that it can become a truly competitive technology compared with fiber optic connections, while retaining its convenience and cost advantages. FWA has entered in the wireless optical fiber era, and it is reshaping broadband connections, allowing homes and SMEs to access high-speed Internet services without optical fiber connections, thus quickly entering the digital era; as the leader of 5G FWA, MAG Intelligent will provide a full series of 5G modules and FWA solutions to further promote the implementation of 5G FWA-related products and realize inclusive broadband for everyone and digital life for everyone."
With the continuous development of science and technology, users' requirements for network speed and stability are constantly improving. 5G FWA can be widely used in rural areas, towns, hospitals, enterprises, factories, communities and other application scenarios, providing more convenient and efficient Internet services for people at home, at work and everywhere in between. Based on the people-oriented principle, MeiG Smart is willing to contribute to the development of 5G, so that people in all countries and regions around the world can be connected to the 5G network, and further promote the development of 5G economic globalization.