In the era of digital economy, technologies such as 5G and AIoT are accelerating convergence while developing. With the rise of 5G+AIoT technology, the market demand for 5G intelligent products is increasing. At the same time, the 5G intelligence of cellular modules also becomes a trend, and has deepened and expanded into various application fields.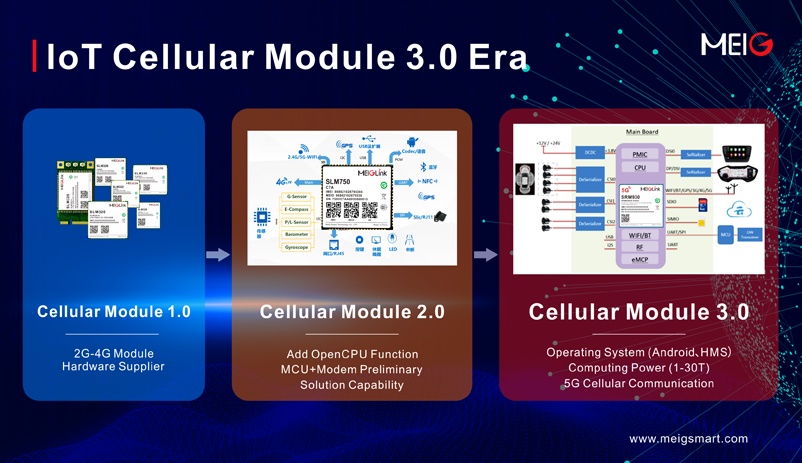 ▲IoT cellular module 1.0~3.0
IoT cellular module 1.0 era
In the traditional IoT cellular module, the module manufacturer only provides a Modem carrier that can be used for voice or data transmission. It exists as an optional accessory in the design of end customers. We call it the cellular module 1.0 era;
IoT cellular module 2.0 era
With the continuous technological evolution and changes in customer requirements, many customers propose to develop the original pure data transmission module in depth, and gradually change the module from a closed system to an open one, which is commonly known as Open CPU. It further releases the Arm architecture capability of the module, and supports the standard API interface, so that the end customer can adapt the module to a certain extent, so as to support simple peripherals. we call this stage as IoT cellular module 2.0 era;
IoT cellular module 3.0 era
At one time, Symbian and Windows occupied the dominant position in smart phones, but then Android system gradually eliminated some old operating systems with its revolutionary innovation, and now formed a tripartite separation situation: Android, iOS and HarmonyOS. Due to the open-source feature of Android, the demand for intelligent IoT comes along. Users hope to customize the interface, implant customized APP, access different display devices, support face recognition/face payment, and perform multimedia video interaction … We call the evolution of this technology the IoT cellular module 3.0 era.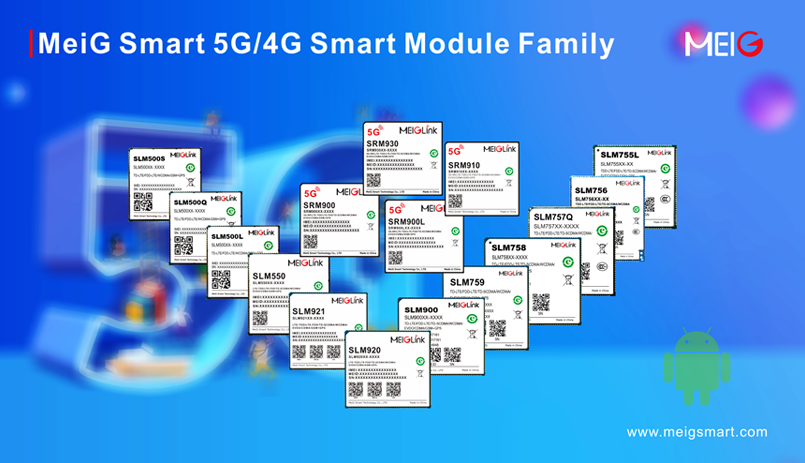 ▲MeiG Smart5G/4G Smart Module Portfolio
Smart module, with cellular module features, supports 5G/4G/3G/2G WAN access. At the same time, smart module comes with complex operating systems such as Android and HarmonyOS, and has an open and secure software environment. With CPU and GPU computing power, it is highly integrated and supports GNSS, Wi-Fi 4/5/6 and BT/BLE. Smart module has rich interfaces, which can expand complex peripherals, such as LCM/TP/Camera and multi-channel UART/IIC/SPI, making it convenient for users to connect various extended devices such as Sensor, NFC, dock scanning and fingerprint recognition in series. Compared with the traditional matching mode of AP+Modem, smart module has smaller size and better cost-performance.
History of MeiG Smart Module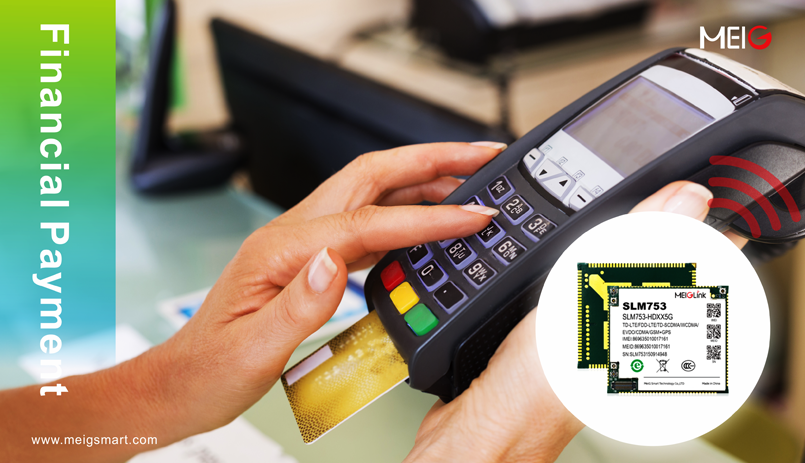 ▲MeiG Smart First Generation Smart Module: SLM753
In 2014, MeiG Smart team designed the first 4G smart module-SLM 753, which adopts Qualcomm MSM8916 solution. With a size of 38*43mm, the module is widely used in VoIP interphone, intelligent logistics terminal, intelligent POS equipment and automobile entertainment. The life cycle of SLM753 is as long as six years, with a cumulative sale of more than 3 million pieces. Up to now, it is still doing maintenance work for some end customers.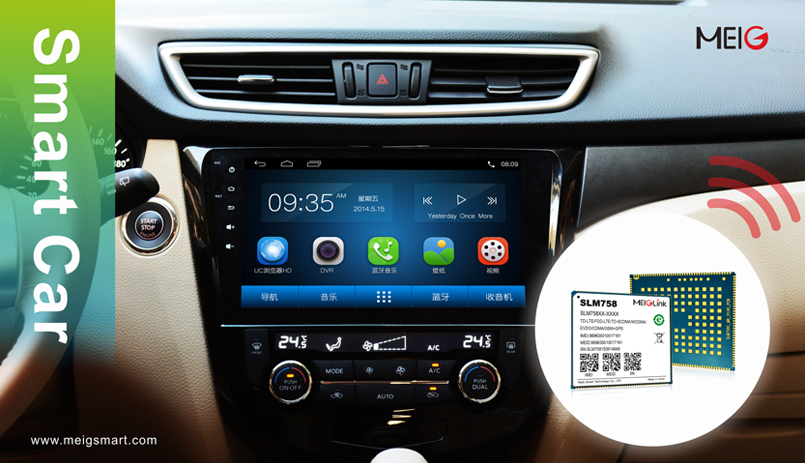 ▲MeiG Smart's First Generation Smart Computing Module: SLM758
In 2017, MeiG Smart launched the first generation of smart computing module ——SLM758, which adopts Qualcomm MSM8953(SD625/626) solution, supports Qualcomm SNPE neuron algorithm, supports 0.2-0.5T intelligent computing power, and the module is equipped with third-party ADAS/DMS algorithm, focusing on face recognition, face payment, fatigue monitoring, dangerous behavior prediction and other fields. Up to now, the module has shipped more than 3 million pieces.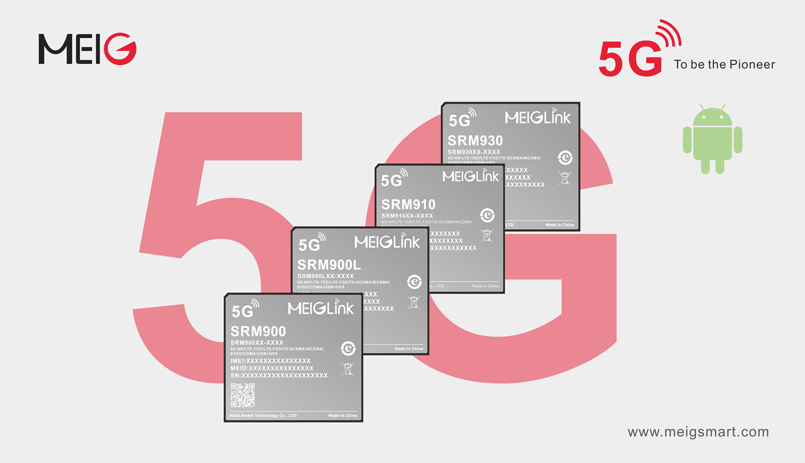 ▲MeiG Smart's New Generation 5G High Computing Smart Module Family:
SRM900、SRM900L、SRM910 & SRM930
In 2020-2021, MeiG Smart launched the first generation of 5G smart module SRM900L, SRM900, SRM910 and SRM930 with high computing power, which formed the full coverage of "low, medium and high" three grades of 5G smart modules with computing power ranging from 2T to 14T. The four modules are compatible with the design of peripheral hardware of the modules, which greatly improve the flexibility of customer selection.
It is worth mentioning that the SRM900 adopts Qualcomm SM6350 platform and supports X51 Modem. Its CPU adopts 8nm FinFET process, built-in 64bit ARM V8 core, Kyro560 (2 * A77 2.0 GHz&6 * A55 1.7 GHz), built-in Adreno GPU 619 and V66A 1.2GHz+Dual HVX, which can carry algorithms with higher AI computing power. It supports Decode/encode up to 4K 30fps, H.265, Android 11 operating system, 64GB+4GB (or 128GB+6GB) of built-in board memory, 5G NR sub-6Ghz, DL 4x4 MIMO, UL 1x1 MIMO, NSA and SA, and integrates L1+L5 GPS, 2x2 MIMO and ax ready Wi-Fi broadband smart cellular module.
The SRM930 launched this year is developed on Qualcomm 5G SoC QCM6490 platform, and adopts Qualcomm kryo6xx CPU (1 * a78 2.7ghz+3 * a78 2.4ghz+6 * a55 1.9ghz), 6nm FinFET process and 64bit ARM V8 core. The built-in Adreno™ GPU 642L supports OpenGL ES 3.2, Vulkan1.x and OpenCL 2.0. It has AI processors Dual HVX and 4K HMX, and the AI computing power exceeds 14 Tops. A Adreno™ VPU 633 can support 4K 30 video coding or 4K 60 video decoding at most, and supports H.264/H.265. SRM930 is equipped with Android 11 operating system, with a storage of 64GB+4GB (or 128GB+6GB), supporting 5G NR sub-6Ghz, DL 4x4 MIMO, UL 1x1 MIMO, NSA and SA, integrating L1+L5 GPS, 2x2 MIMO Wi-Fi 6E and BT 5.2 functions.
In the future, the smart upgrade of the intelligent industrial chain with 5G+AIoT as the core will keep accelerating, and the cellular module 4.0/5.0 will be gradually realized in the future. As the pioneer of smart modules and solutions, MeiG Smart will continue to maintain its leading position in the smart module industry, increase investment and promotion of new products, and use smart modules+IoT customized solutions to facilitate video recorders, intelligent cockpits, smart POS cash registers, logistics terminals, VR Camera, intelligent robots, intelligent information collection equipment and intelligent handheld terminals under 5G networks.