Recently, as a pioneer in smart module and solutions, MeiG Smart—a world leading supplier of cellular modules and solutions, has officially launched its new generation flagship slot type android smart module SNM951, which is developed based on the Qualcomm® QCS8250 IoT solution.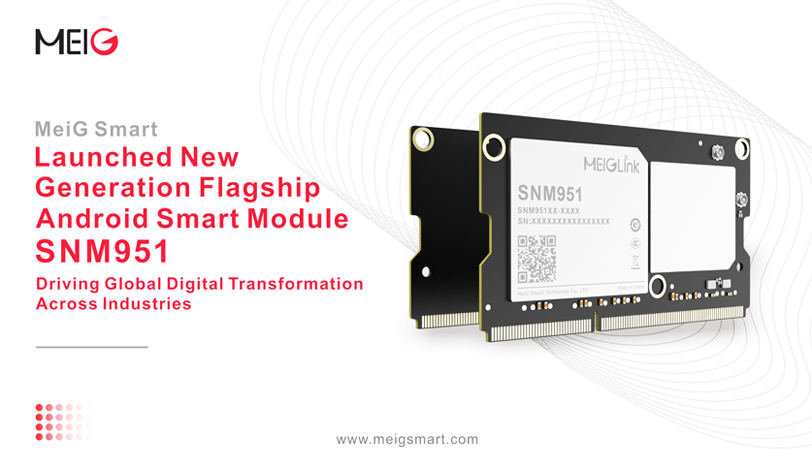 MeiG Smart next generation flagship Android smart module SNM951 substitutes the design of slot-type interface for direct welding, which supports plug and replace in power-off state, in consideration of convenience and space-saving. SNM951 adopts the Qualcomm QCS8250 solution, which integrates octa-core high performance Qualcomm® Kryo™ 585 CPU, Qualcomm® Adreno™ 650 GPU, Qualcomm® Adreno™ 995 DPU, Qualcomm® Hexagon™ DSP, and Qualcomm Spectra™ 480 ISP. By adopting 7nm processing technology, the solution provides comprehensive AI computing power up to 15 Tops for compute-intensive enterprise and commercial IoT applications.
Benefiting from the excellent camera and video processing capability of the Qualcomm QCS8250 solution, SNM951 supports 8K at 30fps video encoding and 8K at 60fps video decoding, and up to 64 million pixels photo and video shooting capabilities. It also supports OpenGL ES 3.2, Vulkan1.1, OpenCL2.0 and integrates Qualcomm® Neural Processing Unit230.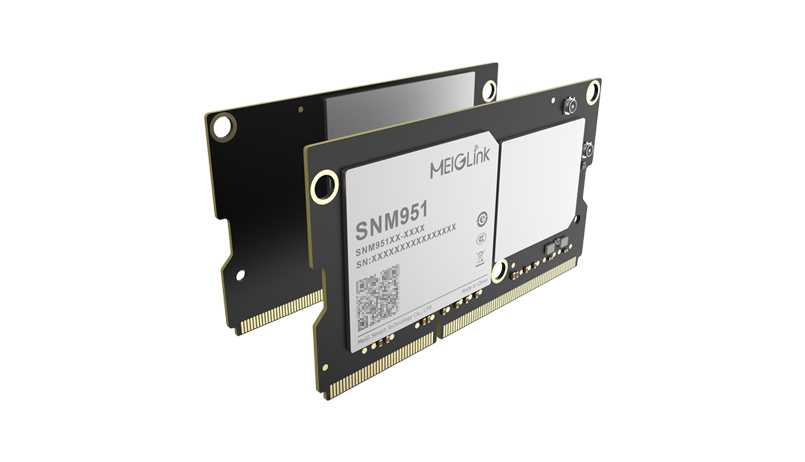 In terms of connectivity performance, SNM851 supports Wi-Fi 6, DL 2×2 Wi-Fi MIMO, BT5.1 and expandable 5G connectivity. It possesses powerful edge AI optimization features, and with the help of Kryo 585, Qualcomm® Artificial Intelligence (AI) Engine, and Qualcomm Spectra ISP, SNM951 can support up to 7 concurrent cameras in addition to 4K at 120fps video encoding processing capabilities.
SNM951 is equipped with the Android 10 operating system, with a default onboard storage of 256GB UFS and 12GB LPDDR5. It integrates multiple function interfaces including LCM, Display Port, touch screen, camera*, PCIe, USB, I2C, UART, SPI, and more.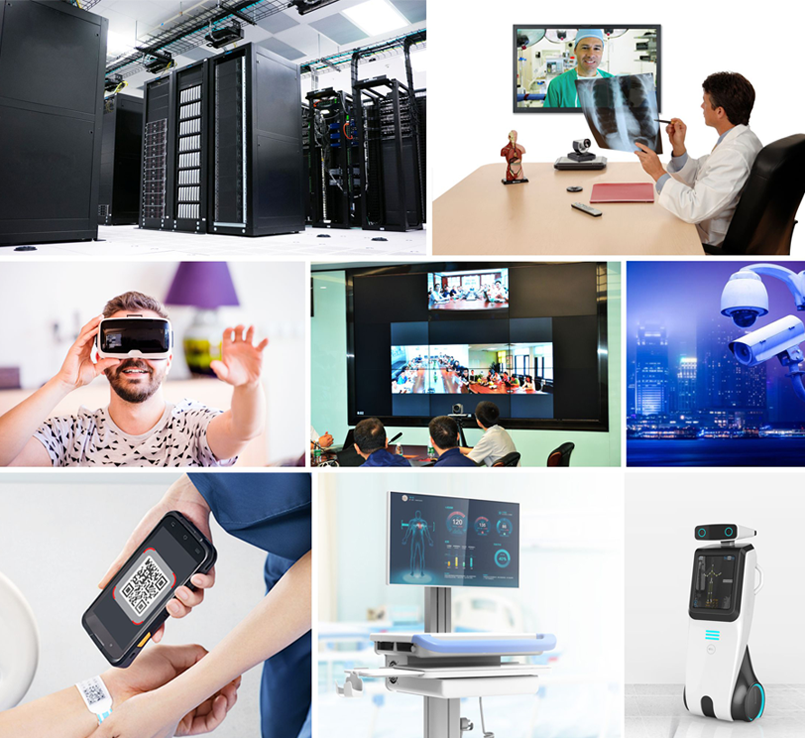 SNM951 smart module can be widely applied in fields such as cloud servers, video meeting systems, VR cameras, intelligent robots, video acquisitions and processing equipment.

This powerful solution not only provides a new neural processing unit (NPU) for highly intuitive AI features, but also brings machine learning functions to compute-intensive IoT applications, empowering smart cameras across video collaboration, AI hubs, connected healthcare, smart retail and more. SNM951 is specially designed for industrial and commercial IoT applications, through flexible options of third-party ecosystems to provide ultimate user experience and accelerate large-scale deployment and commercialization.
From high-performance applications to power-saving networking devices, the target markets include transportation and logistics, warehousing, video collaboration, smart cameras, retail and healthcare fields. It provides the required performance at different levels and emphasizes the provision of extended hardware life and software options for the IoT environment, with long-term support for at least 8 years.
Up to now, MeiG Smart SNM951 smart module has reached MP state, and is going to be supplied in large quantities in Q2.
"Qualcomm Technologies' leading IoT solutions and global ecosystem members are revolutionizing next-generation devices across industries. We are pleased to support MeiG Smart in launching the MeiG Smart SNM951 IoT module based on our premium platform, Qualcomm QCS8250. These solutions will continuously empower innovation and support global customers in building devices and products for enterprise and commercial IoT applications from video collaboration, smart camera, connected healthcare, smart retail and more," said Nagaraju Naik, senior director, product management, Qualcomm Technologies, Inc.
MeiG Smart CEO Benjamin said:
"Qualcomm Technologies is a long-term strategic partner of MeiG. From 4G to 5G, we have been cooperating with each other for many years, and related products have been widely commercialized across industries in every corner of the world. This time, we join hands with Qualcomm Technologies to develop a next generation, flagship, Android smart module, the SNM951 based on the Qualcomm QCS8250 solution. This new offering is dedicated to empowering industries and promoting the digital and intelligent transformation, ultimately upgrading society and helping to build an intelligent, safe and efficient society with the Internet of Everything. "