Recently, MeiG's module SLM750 successfully passed the authoritative certification of SoftBank, NTT Docomo and KDDI, showing that SLM750 module fully meets the demand of three major operators in Japan in terms of product performance and other relevant requirements, and has the capability of "unimpeded" wireless connection service in Japan.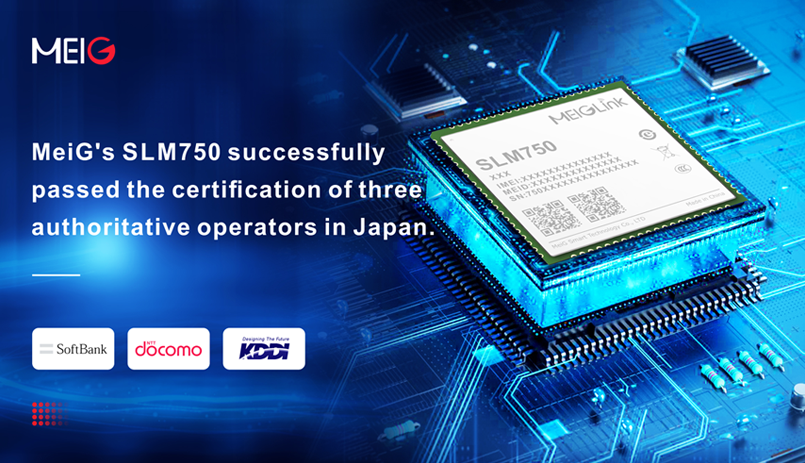 SoftBank, NTT Docomo and KDDI are the three major operators in Japan. They serve widely in Japan and other regions around the world. Like the four major operators in China, SoftBank, NTT Docomo and KDDI are equally important in Japan.
In recent years, the rapid growth of business in Japanese IoT market has attracted many enterprises to compete in the layout of relevant application scenarios in advance. The SLM750 module has passed the rigorous certification of three major Japanese operators with excellent performance, which will accelerate the pace of MeiG to enter into the Japanese IoT market.
SLM750 is an M2M communication module designed and developed based on Qualcomm MDM9X07 platform. It can be packaged in LCC or Mini PCIe. Its size is 32.0 × 29.0 × 2.8mm which integrates lots of software business units, and supports multiple network protocols (TCP/HTTP/FTP), and is compatible with multiple types of operating systems. It not only has a stable and reliable wireless access capability, making it suitable for mobile broadband, industrial routing, vehicle and transportation, wireless payment, green energy, personal tracking, video monitoring and other fields, but also helps customers to quickly redevelop, effectively improving terminal endurance and optimization of software and hardware.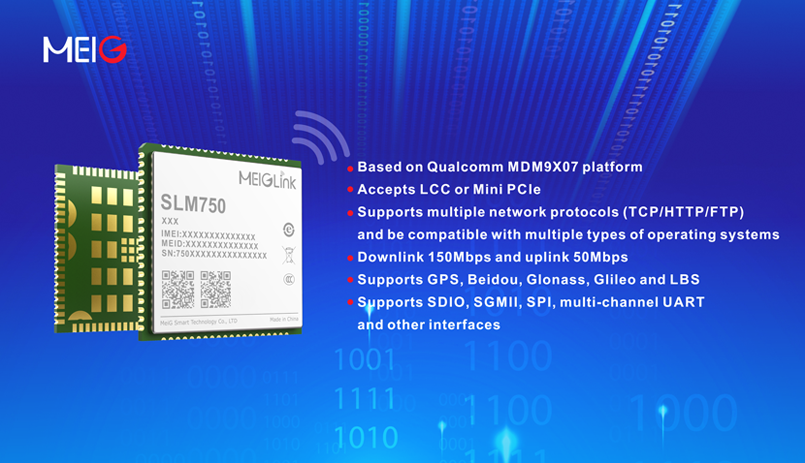 In terms of data transmission and network stability, the SLM750 module can achieve 150 Mbps in the downlink and 50 Mbps in the uplink. It supports diversity reception and MIMO technology to improve communication quality and optimize the speed of data transmission. At the same time, SLM750 module provides high sensitivity global satellite navigation function, supports GPS, Beidou, Glonass, Glileo and LBS, so that it also play a good role in the positioning.
In addition to excellent data transmission performance and positioning capability, SLM750 also supports SDIO, SGMII, SPI, multi-channel UART and other interfaces. It can also plug in Wi-Fi modules, Ethernet ports, positioning modules, Bluetooth modules and other peripherals, and support SRLTE, CSFB, VOLTE to maximize customer demand.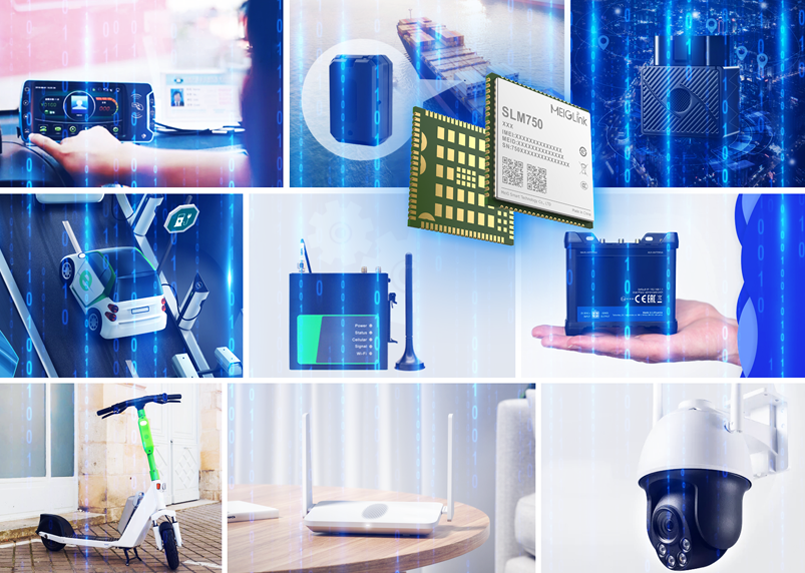 SLM750 has realized large-scale commercial use, and has become a terminal product in various fields across the world. In terms of certification, before being certified by SoftBank, NTT Docomo and KDDI, SLM750 has won dozens of global official certifications, including CCC, SRRC, CTA, CE, FCC, ROHS, KC, JATE, TELEC, ANATEL, NBTC, NOM, NCC, RCM, GCF and PTCRB, covering a wide range of regions and fields.
In the future, With our industrial advantages, MeiG will adhere to providing higher quality modules and customized solutions for the IoT industries, helping the digital industry and intelligent life upgrade and enable. MeiG will let the IoT technology bring a safer, more convenient and intelligent life for human life.