▌Millimeter wave: Start the second half of 5G
The standard of 5G defined by 3GPP includes Sub-6 GHz and millimeter wave (mmWave). The frequency range below 6GHz is called the Sub-6GHz frequency band, and the other high-frequency range from 24GHz to 100GHz is called millimeter wave. Its main features are ultra-high speed, ultra large bandwidth, and extremely low latency.
Compared to Sub-6GHz 5G networks, the ultra large bandwidth of 5G millimeter waves brings more abundant spectrum resources. On the one hand, it can solve the problem of spectrum resource shortage faced by operators and also bring greater network capacity. In terms of transmission rate, the maximum bandwidth of mobile applications in the millimeter wave frequency band reaches 400MHz, and the theoretical transmission rate is as high as 10Gbps, which is clearly more in line with the pursuit of users in the 5G era. Secondly, its latency is only a quarter of the Sub-6GHz frequency band, truly achieving millisecond level latency.
In fact, Sub-6GHz and millimeter waves are not like "You can't have it both ways" relationship. The Sub-6GHz network solves the coverage problem of 5G and enters the second half of 5G. The 5G millimeter wave network maximizes the advantages of 5G's large bandwidth, low latency, and wide connectivity, unleashing greater value.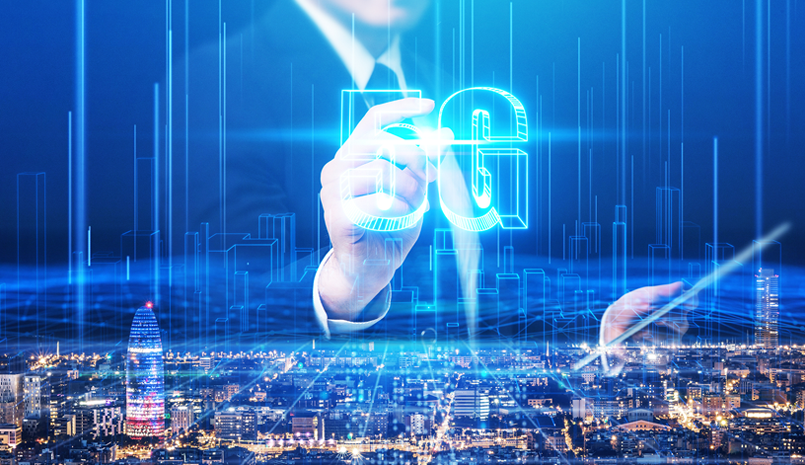 The initial construction of China's 5G network began at Sub-6GHz, and after being the first to complete large-scale commercial use, it is also actively planning for the layout of millimeter wave. From a global perspective, as of the end of the third quarter of 2022, approximately 75 countries have completed the allocation of 5G millimeter wave spectrum, among which commercial 5G millimeter wave networks have been launched in the United States, Italy, Japan, South Korea, Singapore, Chinese Taiwan, China mainland and other regions.
▌FWA: First application scenario of millimeter wave
FWA is one of the hottest tracks in 5G, with nearly one-third of global operators providing FWA services through 5G. The global revenue of FWA service providers in 2022 is approximately $27 billion, and according to Ericsson's forecast, it will reach $67 billion by 2028, with a compound annual growth rate of 16%. With the surge in demand for personal and home network connectivity, 5G FWA will become a "supreme application" driving the increase in broadband adoption and bridging the global digital divide challenge.
FWA is also an application scenario where millimeter waves fully leverage their advantages. By combining the advantages of 5G and millimeter wave spectra, 5G millimeter wave FWA provides an alternative solution comparable to fiber optic wired connections. FWA has high requirements for network capacity resources. On the one hand, with the development of smart homes, besides mobile devices, the number of devices in households that need to access the network has significantly increased. On the other hand, the data consumption of FWA users is much higher than that of mobile users, further strengthening the consumption of network capacity.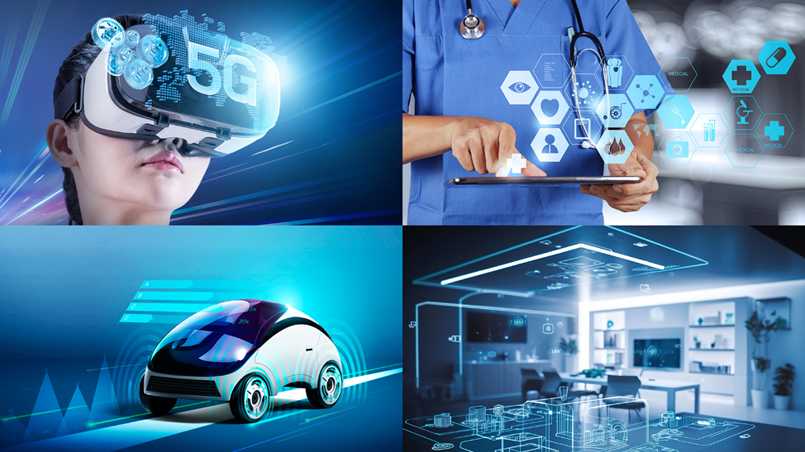 The utilize of millimeter waves has improved the bandwidth and capacity of home networks, meeting high flow capacity demands while enhancing the performance of 5G networks. With the ultra-high-speed network connection brought by 5G millimeter waves, 5G FWA creates the ultimate network experience for users, meeting the connection needs of different scenarios such as smart home, SOHO, AR/VR, and video entertainment.
▌MeiG's 5G-A FWA Solution
MeiG has a profound insight into market trends, based on the latest Snapdragon ® The X75 platform has carried out research and development of FWA solutions such as 5G MiFi, 5G CPE, and 5G ODU. Among them, the 5G CPE solution SRT1001 was officially released in mid-March this year.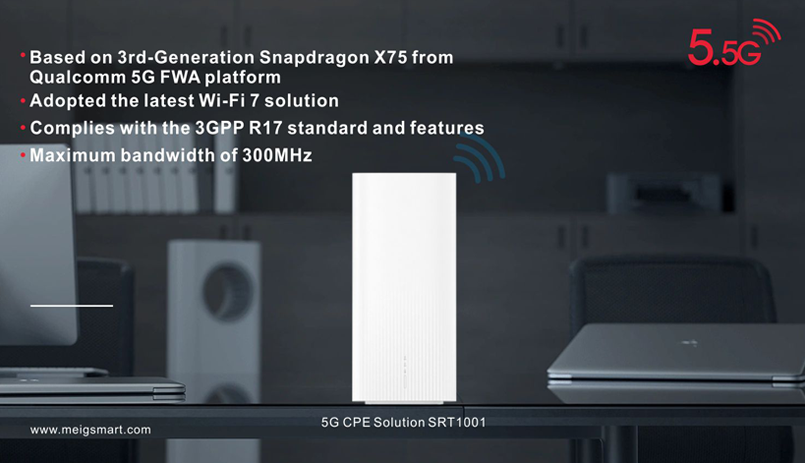 MeiG will release the 5G-A module SRM827W that supports 5G millimeter waves on the market in Q4, 2023, along with the 5G-A MiFi solution SRT873 and 5G-A ODU solution SRT853MX designed based on this module. The above two solutions both support 5G NR Sub-6GHz and millimeter wave, with a measured peak rate of 10Gbps in the downlink rate experimental network and a maximum uplink rate of over 3Gbps. They also support NSA/SA 5G dual mode networking and millimeter wave SA networking.
5G-A moduleSRM827W
The SRM827W series module adopts a standard M.2 package, with a size of 30x52x2.3mm and is equipped with Snapdragon ® The X75 5G modem and RF system support Sub-6GHz, millimeter wave, and Wi Fi 7, paired with the latest generation of Qualcomm QTM565/QTM567 millimeter wave antenna modules, achieving higher performance, energy efficiency, and lower design complexity.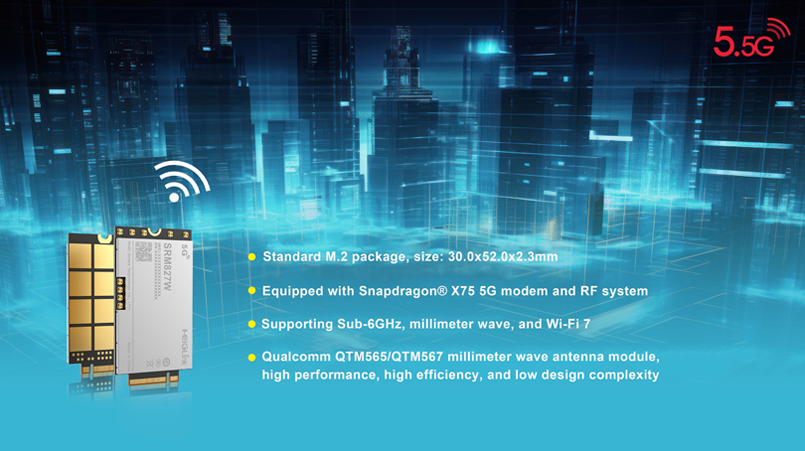 5G-A ODU Solution SRT853MX

The 5G ODU solution SRT853MX is designed based on the 5G module SRM827W and supports millimeter wave, Sub-6GHz, Wi-Fi 7, and 10Gb Ethernet capabilities. It covers global operator networks and helps Fixed Wireless Access (FWA) create an excellent 5G network experience. It can be widely used in video monitoring, mobile police robots, telemedicine, 4K/8K video, VR/AR, and other scenarios.
In terms of signal coverage, thanks to the advanced features of the Snapdragon X75 platform, the SRT853MX supports ten carrier aggregation for the millimeter wave frequency band, as well as downlink five carrier aggregation and FDD uplink MIMO for the Sub-6GHz frequency band, achieving greater network coverage and network capacity through excellent spectrum aggregation.
For weak signal scenarios, this scheme integrates four sets of high-power QTM567 antenna modules, with an ERIP of up to 50dBm, making it the highest ERIP indicator in the industry. It also supports complete frequency bands and can achieve full house coverage.
SRT853MX supports second-generation Qualcomm ® The 5G AI kit enables advanced AI based functions, such as the world's first sensor assisted millimeter wave beam management, which can significantly enhance the robustness of millimeter wave links and ensure the stability of network connections. The second generation AI enhanced GNSS positioning brings improved positioning and tracking accuracy, bringing effective benefits to the application of densely built urban communities.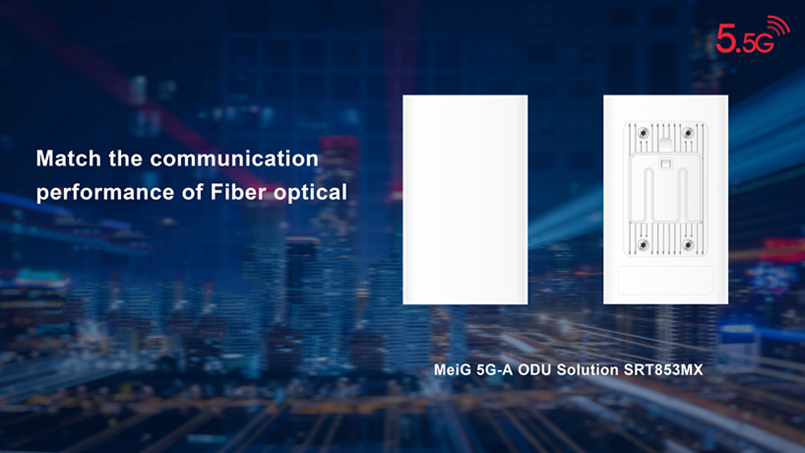 In addition, multi-dimensional reliability design has been integrated into the MeiG's 5G FWA solution. The product has undergone rigorous thermal simulation and design, making it suitable for scenarios ranging from -40 ℃ to -60 ℃. And real-time temperature monitoring is carried out on the software, and the transmission power and uplink/downlink rate of the equipment are adjusted based on the temperature to ensure stable operation of the equipment. At the same time, it adopts IP67 protection level and has undergone rigorous waterproof, dustproof and other tests, making the equipment fearless of outdoor harsh environments.
MeiG has always been researching and developing modules and intelligent terminals that support millimeter waves since 2019, iterating through multiple products and accumulating rich experience. In the future, MeiG will continue to rely on its powerful R&D capabilities and deep technological accumulation to continuously enrich 5G millimeter wave terminals and applications, so that 5G can truly benefits all industries.