What is the product certification system?
The International Organization for Standardization (ISO) defines product certification as: a third party confirms whether the enterprise's products, processes or services meet specific requirements through inspection and evaluation of the enterprise's quality management system and sample type tests, and whether it has the ability to continuously and steadily produce products that meet the standard requirements, and gives a written certificate. The procedure.
In order for products to go to the world, they must first obtain product certification in different countries and regions, which is also the key for enterprises to the international market.
▌Authoritative Certifications, Globally Accepted
As a global leading supplier of wireless communication modules and solutions, MeiG is committed to the global development layout of overseas markets based on China, and provides safe, reliable and cost-effective module products and Internet of Things industry solutions for global customers.
MeiG's module products have passed a series of international mainstream certifications, so that they can be one step faster in the sea. Among them, SLM750 module is one of the most fully certified product series.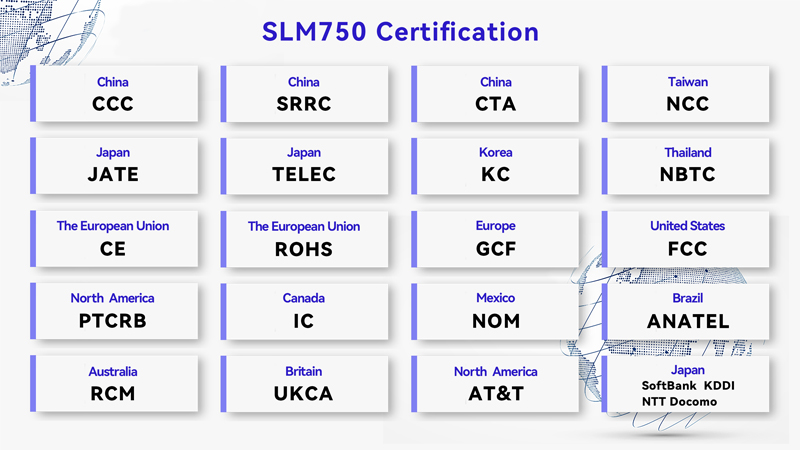 At present, SLM750 has obtained dozens of global officials such as CCC, SRRC, CTA, CE, FCC, IC, ROHS, KC, JATE, TELEC, ANATEL, NBTC, NOM, NCC, RCM, GCF, PTCRB, UKCA, etc. It has passed the certification of Japan's SoftBank, NTT Docomo, KDDI and North American operators AT&T, Verizon.
These authoritative certifications are the best proof of the reliability of the SLM750 module, and also reflect the ability of MeiG to continuously and steadily provide customers with high-quality, efficient and safe services and products. On the other hand, complete overseas certifications also gives the product a competitive advantage in global mainstream markets such as Asia, Europe, the Americas and Australia. For end customers, it can effectively shorten the product certification cycle and accelerate the product's entry into the target market.
▌Reliable Performance, Strong Connection
SLM750 module is designed and developed based on the Qualcomm MDM9X07 platform. The ultra-small size of 32.0×29.0×2.8mm integrates a rich software peripheral business unit. Customers can flexibly choose LCC or Mini PCIe packaging forms according to their needs.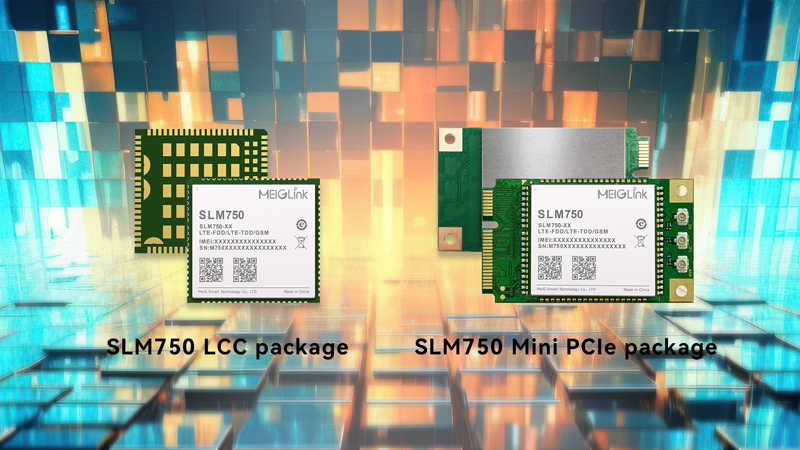 In terms of data transmission and network stability, the SLM750 module covers the world's mainstream operator networks, with a maximum rate of 150Mbps downstream and 50Mbps upstream. At the same time, it supports distributed reception and MIMO technology to improve communication quality and optimize the speed of data transmission.
The SLM750 module has rich built-in network protocols and is compatible with Windows, Android and Linux mainstream operating systems to meet the needs of a wider range of data transmission applications. It can be applied to mobile broadband, industrial routing, on-board transportation, mobile payment, clean energy, location tracking, video. Monitoring and other fields.
In terms of interface, SLM750 supports SDIO, SGMII, SPI, multi-channel UART and other interfaces. It can plug in Wi-Fi modules, Ethernet ports, positioning modules, Bluetooth modules and other peripherals, and supports SRLTE, CSFB and VOLTE, effectively improving the flexibility of terminal design.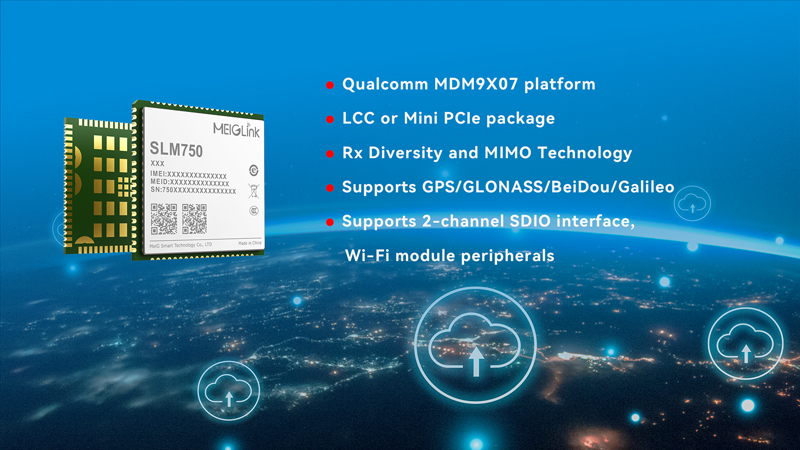 In addition, the SLM750 module supports GPS, Beidou, Glonass, Glileo global mainstream positioning and LBS, giving the terminal equipment highly flexible, accurate and efficient positioning characteristics.
▌Various Scenarios and Applications
As a global enterprise, MeiG's IoT customers have spread to more than 100 countries and regions around the world. As a "solder-level" product of MeiG, the SLM750 module has blossomed on terminal products in many industries around the world, achieving large-scale and large-scale commercial use, and has been widely recognized by customers around the world for its performance and quality.
Auto scenario
SLM750 has been widely used in OBD, TBOX, driving recorder, on-board DVR, intelligent vehicle machine, intelligent rearview mirror and other on-board terminals. It serves the vehicle, road and cloud integrated vehicle networking system, realizes the interconnection between on-board systems, makes the on-board terminal equipment more intelligent and convenient, and creates more Good driving experience.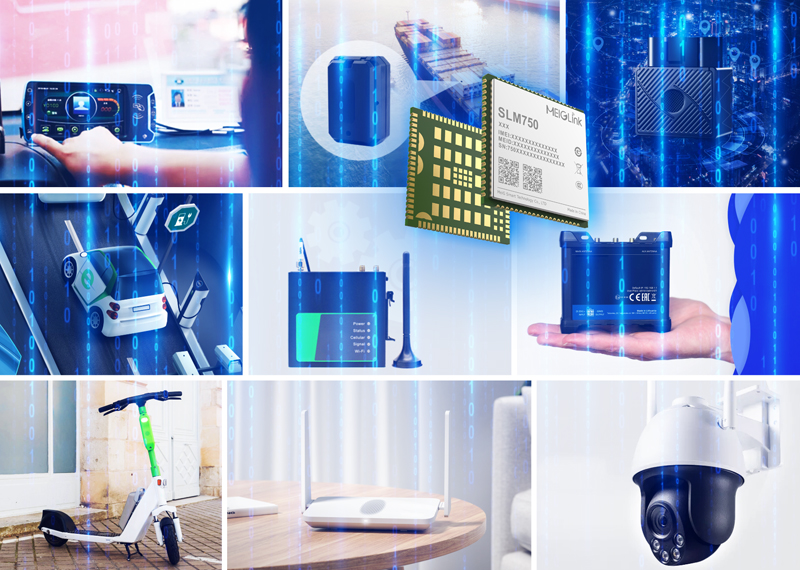 Industrial Internet
SLM750 has the advantages of rapid networking, flexible expansion, short construction cycle and low cost. The industrial routing equipped with modules can enable all kinds of industrial equipment to access the network reliably, at high speed and safely, complete the wireless data communication between the industrial equipment and the central control system, and easily realize the remote data collection and control of the equipment. To help the digital transformation and upgrading of industry.
Aiming at the development height of world-class enterprises, MeiG will continue to adhere to the innovation-driven, continuously improve its core competitiveness, and continue to have insight into market changes, strengthen cooperation with global partners, actively expand the international market, and sail to the global IoT market, which is full of opportunities.